If you want the best work-life balance in the world, head north to Europe. A study carried out by IoT security firm Kisi has ranked cities around the globe by how successfully they promote work-life balance to their citizens, even amidst the current economic uncertainty.
The study examines work intensity - defined by a range of factors including rate of overwork, the number of jobs that are remote-adaptable, and notably, unemployment rates and the percentage of people who need to take multiple jobs to survive. It also considers the extent to which society and institutions provide a constructive living environment, defined by gender and LGBT+ equality, the quality of healthcare including mental healthcare, and how well the pandemic has been managed. In addition, the study looks at liveability, which covers affordability and how healthy and safe the overall environment is.
Based on these factors, the top 10 cities are as follows: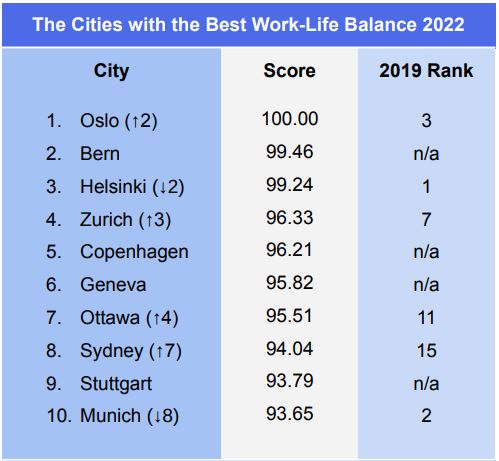 Image from Kisi Work-Life Balance Study 2022
The top half of the list is dominated by European and Canadian cities; the bottom half by US cities and a handful of Asian and South American cities. The questionable award for the worst work-life balance in the world goes to Cape Town, Dubai, and Kuala Lumpur. Unsurprisingly, these cities have some of the most overworked populations, and Cape Town in particular also has the highest unemployment rates and suffered the worst impact from COVID-19.
The study also indicated some correlation between remote work and work-life-balance. Cities with a high percentage of remote jobs tend to have better work-life balance than cities with low rates of teleworking, while those with low work-life balance also showed up with a low percentage of remote jobs.
That said, there are spectacular outliers, such as Singapore, which has the highest proportion of remote jobs in the world (52%) and ranks 45/100 in terms of work-life balance, or Hong Kong, which has 40% remote jobs and ranks dramatically low at 93/100. However, it's worth noting that both these cities ranked noticeably higher (Singapore #18 and Hong Kong #45) when Kisi carried out a similar study last year, suggesting that external factors may have badly affected work-life balance in both locations.
One final factor of interest that the study unearthed: how many days of vacation people take per year. European countries topped that list, with people in Germany and Switzerland taking 25-26 days off, and Helsinki in Finland came #1 with people taking an average of 30 days off. The entire bottom half of the list, though, was occupied by cities in the US, where people apparently take less than 10 days off a year.