According to the World Economic Forum, more than 40% of core skills required to perform existing jobs are expected to change. With the world of work on an endless spinning wheel of change, learning and development remains critical not just for survival today, but to sustain, grow and thrive in the ever evolving working ecosystem.
Commenting on the intensifying spotlight on L&D, Tim MacCartney, Senior Vice President of CoachHub APAC said in an interview, "The L&D market has boomed in recent years. It's about a $400 Bn market cap because companies are wanting to invest in their people to ensure that they are focused, relevant in their roles and meeting industry standards. There's been an explosion of new tech that enables learning, but it's really presenting that the problem is a 'choice'." 
Despite the heavy focus on learning, several employers remain on the fence when it comes to investing in learning technology. As leaders retain their reservations around participation and impact, learning organisations today have revamped their capabilities and offerings to tackle these challenges, by reigniting the focus on the backbone of sustainable, scalable and personal learning - coaching. One such learning-oriented organisation, meeting the needs of the employers and the workforce alike, is CoachHub.
CoachHub's advent into APAC's L&D landscape
Global talent development startup CoachHub enables organisations to create personalised, measurable and scalable coaching programmes for the entire workforce, regardless of department and seniority level.
The company is fast growing with over 3,500 highly trained and certified business coaches spread across 70 countries, six continents, and delivering coaching sessions in over 60 languages to serve more than 500 clients. 
Beyond international clients including Danone, Credit Suisse, JTI and Criteo, Asia Pacific is one of CoachHub's most exciting growth markets. In fact, CoachHub's APAC branch has already been supporting renowned brands in the likes of B. Braun and Schneider Electric, while also partnering with local leading HR institutions or associations including IHRP, STADA and SHRM. Expanding their APAC team, the startup has onboarded more than 400 coaches across the APAC region and has recently also opened up its APAC headquarters in Singapore.
Headquartered in Berlin, CoachHub has been expanding internationally for some time now. 
The company has raised a total of US$110 Mn in Series B capital to date, with most of that funding going to its international expansion. CoachHub is set to pursue its global growth by continuing its mission of implementing a coaching culture and employee support network. 
"With the future of work constantly evolving in the ongoing COVID-19 pandemic, coaching has never been more important to train and support employees in order for them to reach their full potential. In the current age of digital transformation, and with companies focusing more and more on employee wellbeing, at CoachHub we believe that coaching helps individuals to gain their rightful place in their company, developing both personally and professionally through learning a mixture of soft and hard skills," said CoachHub's Tim MacCartney.
What does CoachHub bring to the learning ecosystem?
"I consider coaching to be fundamental to success in business. Think about your favourite athletes, performers, media personalities and government officials. They all have personal coaches, guiding them on how to drive performance in the moment, and pull them back when needed too," noted MacCartney in an interview.
"As you become more successful, often much more is required of you, and coaching  is one thing that can prepare and support you throughout your career," he added.
Rightly said, coaching indeed is fundamental to success in business, and the delivery and enablement of coaching is what determines how impactful the outcome is, which is what CoachHub's mobile learning application caters to through its five key offerings:
Coaching experience: CoachHub's business coaching is a customised 1:1 experience focused on growth and learning which allows users to access regular coaching sessions with a top business coach. The coaching journey has been broken into three phases (Identify, Transform, Measure), enabling sustainable growth and development for coachees.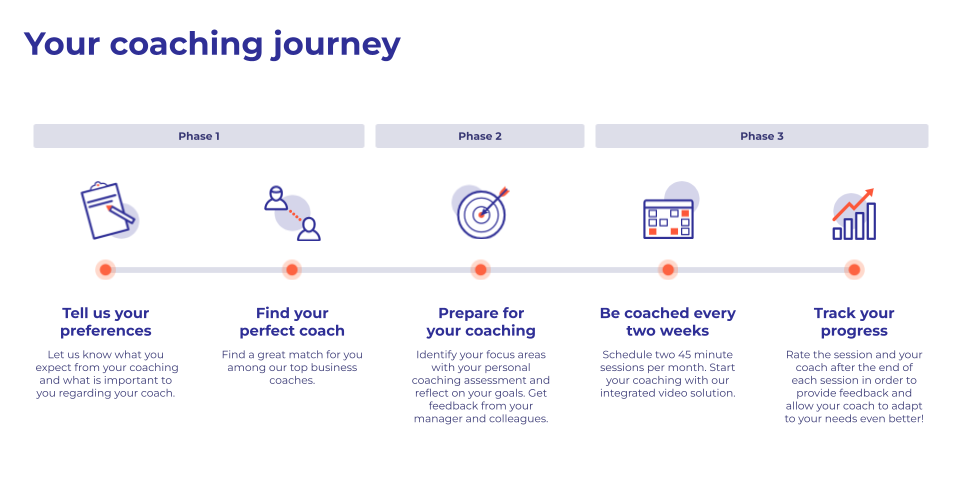 Coaching platform: Through the platform, employees can discover their strengths and set goals leveraging CoachHub's holistic coaching framework. Employees can choose whether to strengthen strengths or address weaknesses. Additionally, while the actual contents of the coaching sessions remain completely confidential, the progress can be tracked real-time by employees in the app, as well as HR teams through access to an extensive dashboard. In fact, HR teams can manage their CoachHub account: billing, communication material, templates and contracts - all centralised within the management dashboard. 
CoachHub Academy: The CoachHub Academy aims to maximise the power of learning with a powerful, engaging and transformational experience. Taking the coachee-coach relationship to the next level, the CoachHub Academy offers a wider and reinforced coaching experience during and beyond the coaching session. The Academy operates on three key principles: 

Personalised Content: AI recommended videos, readings and exercises available in 8 languages to fit each person's goals.
On-Demand Learning: Content covers 15+ focus areas, including Time Management, Emotional Regulation and Communication.
Coaching Journey: Driving personal development beyond the coaching sessions with bookmarked content.

CoachHub Wellbeing: A proactive and personal approach to coaching, CoachHub Wellbeing helps establish a caring culture that helps your company flourish. Coaches guide you through the tough moments in your life and support you with useful tools that help you tap into your emotions. The goal is to help employees with self-reflection and mental health awareness so that each individual can feel empowered and resilient. So far, CoachHub Wellbeing has  improved work performance for 70% of coachees and boosted employee engagement by 3X. It has also increased a sense of purpose for 90% of coachees, with 80% experiencing a strong reduction in their level of stress.
Coach Network: CoachHub's Coach Network boasts of a global coach pool with local expertise. All of the coaches are certified, have completed a minimum of 500 hours of coaching and bring more than 6 years of professional experience from across various industries. The coaches come with a digital DNA and excellent handling of digital solutions. 
Digital Coaching for the new world of work
Keeping up with the demands of the evolving digital world of work, CoachHub has taken on massive innovation for their digital platform with a focus on Coachee, Coach and Company, as shared in the image below:
In addition to its technological advancements, CoachHub ensures it gives talent and L&D leaders what they seek from a learning platform - reduces administrative burden, provides organisational insights and analytics to enrich strategy and measures ROI.
The platform supplies L&D decision makers with the knowledge, tools and access to the top strengths and main focus areas of their coachee group, thereby enabling them to compare
different strengths across different teams and understand different focus area priorities. These insights can also be leveraged to inform future L&D investment decisions around specific topics.
Given the immense volume of sharing that takes place on the platform, CoachHub ensures it prioritises data protection, privacy and confidentiality. The platform strictly adheres to data protection protocols - GDPR compliant and SSL-certified. Infact, CoachHub's certified EU platform runs on state of the art security PaaS.
Organisations are striving to remain economically viable in today's dynamic business climate and leaders are grappling with a go-ahead on the right technology to meet their learning needs. Want to learn how you can drive organisational focus and investments towards digital coaching?
Join People Matters L&D Conference APAC 2022 on February 24th and sign up for the 'MasterClass: The Return of Coaching Investment' by Tim MacCartney, Senior Vice President Asia-PacificCoach Hub.