COVID-19 has brought digital disruption in the stark focus and paved the way for human creativity and digital adaptability. The right conflate of human skills and digital skills is imperative for the new world of work. 
The current working climate is digitally evolving at an unprecedented pace. Organizations need to support their employees through digital transformation and upskill them so that their performance doesn't suffer. This isn't an easy job and it takes time. Organizations that can't keep up with the change or support their employees along the way will end up with a less skilled workforce that feels overwhelmed and unsupported.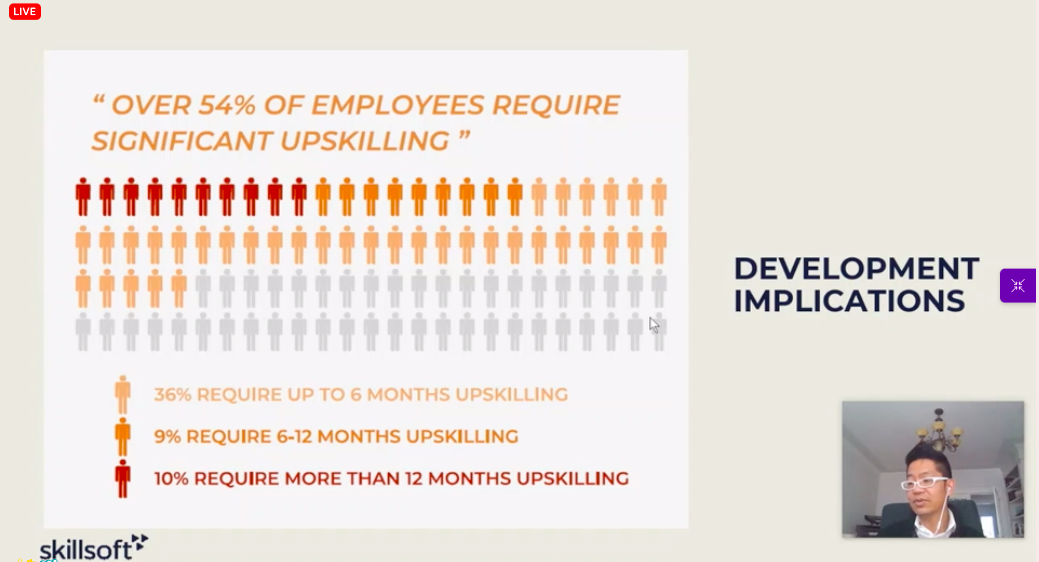 According to a recent survey by Skillsoft it was found that Learning and Development (L&D) is an essential part of any job, with 70 percent of surveyed employees based in APAC seeing opportunities for L&D as important when considering a new job role. L&D can offer an array of benefits to employees and teams– improved performance, improved satisfaction/morale, and improved productivity to name a few. This can only have a positive impact on ROI and staff retention.
However, the survey also highlighted that the efforts aren't enough. More than eight in ten (85 percent) employees wish they received more L&D from their organization for new skills in 2018. In addition, only 14 percent of employees rated the L&D that they received as excellent, where nothing could have been improved. This leaves the vast majority (86 percent) feeling their organization could have done more to provide effective L&D. This is likely to contribute to the 48 percent of employees who admit their team is under-skilled to deliver what is needed for the business. Not only do organizations need to offer more L&D, but they must also deliver it to a much higher standard, otherwise skillsets will stagnate.
Delivering modern learning and development plans is essential in order to upskill employees through this transition. Ultimately, it is both the organization and its employees who suffer if this doesn't happen.
Organizations that leverage progressive learning technologies and methodologies that fit the needs of employees will be the ones who excel with a skilled and digitally able workforce. Benny shared teh following formula to have a lasting learning impact on employees:
Learner-centric
Micro/Modular
Varied treatment
Retention driven
Embedded
Mobile
Although it caught some companies (and nearly entire industries) off guard, 2020 sent a clear message. Digital transformation, a concept we've been discussing for years, isn't a theoretical future state.
Digital transformation is here, now, whether an organization is ready or not. In some cases, the confluence of extreme circumstances of 2020 has accelerated digital transformation by years. For many, this means new investments in technology, changes in staffing, distribution, sales, or service. For virtually all, it means a new or renewed emphasis on learning.