Being in the "right job" may seem a myth for many, but a proper fit for a person and a job does exist.
HR leaders tell People Matters about various ways to find out if you are at the right workplace and will grow your career to how to broaden your view about yourself to make better long-term career decisions.
Asit Kumar, chief human resource officer at fintech company Lendingkart, opines that if your workplace has the following, consider yourself blessed to be in the right job.
A leadership team that has a long-term vision goes a long way in building a great business.  Hence, employees in such places, by default, feel confident that they are in the right place to build their career.
Great culture that has employee-friendly policies such as employee wellness in mind, reward and recognition, adequate and fair compensation for all etc gives a boost to an employee that they are surrounded by thought leaders. They feel welcome and want to thrive for the organisation. When motivated employees come together, magic happens.
A well-defined career path for all levels in an organisation devoid of bureaucracy is a great way to scream how good a great company is for the employee and what it can mean to their career.
A welcoming onboarding programme is another great way to identify if the organisation is the place for the employee to build their career there.  Any employee who is made to feel important at the beginning of joining can go a long way in building their mark in the organisation.
Learning and development opportunities are a great way to engage stellar employees.  Any organisation that has a clear intervention of individual development plan, following up and also involving in developing the individual can see a great engagement by employees who think they can grow their career in the organisation.
Open and honest communication within the organisation and encouraging open communication within teams is another great way to boost employee engagement and to make employees affirm they are in the right place.
Many high performers can navigate through ambiguity and hustle, and it is important for any organisation to bring in some structure as much as possible. This helps teams collaborate efficiently and stellar employees thrive at a place that has some structure.
For Ashish Singhal, co-founder and CEO at Crypto investing company CoinSwitch, a right workplace is the one where an employee's happiness comes from achieving.
Recognition: A workplace that makes you feel valued and shows what you do, matters.
Clarity: Employee satisfaction comes from clarity of their work, achieving their goals, and making meaningful progress. A workplace that enables this is the right workplace.
Transparency: As a leader, you need to be honest and transparent about what you want to achieve—what success means to you—to help employees relate to what we are trying to achieve together, share failures, be honest, be upfront.
Trust: You need to trust your employees—trust them to do their best, and empower them to go about it.
Vision: Alignment on the ultimate goal helps employees make good, better, and turn bad into good.
Satish Shukla, co-founder & head – HR & marketing at robotics and automation company Addverb Technologies shares the following ways to determine if a company is right for you.
Meaningful Work: You find meaning and purpose in the work that you do, and work is not just a set of instructions that you execute day in day out. You get to use a vast variety of skills and develop a range of competencies through your work.
Association:  You associate with the vision and values of the organisation, and you feel aligned with the overall direction of the organisation. You get this urge to go above and beyond for your organisation, feel a very strong association with your peer group, and you have good friends at the workplace. A good barometer to check this is the kind of conversation you are having with your partner about your workplace, if it borders positive it means you have a strong association with your workplace
Autonomy: You get considerable freedom and autonomy to make decisions related to your work. You get an opportunity to execute improvement projects, launch new initiatives, and also get the necessary budgets to see through your initiatives
Appreciation: Your contribution is appreciated, and you are rewarded and recognised for your contributions. Also, you get an opportunity to reward and recognise your team
Feedback & learning: You are given timely, specific and actionable feedback on your work and also the organisation invests in your learning and plans different types of interventions and learning exposures for you
Questions to ask yourself before quitting your job
But, a workplace may seem good initially, and later on, the situation may make an exit necessary. This is also an aspect of the right workplace. On the other hand, there are cases of quitting in haste and repenting at leisure. Are there good reasons to quit, and if so, what are they?
Prasenjit Bhattacharya, co-founder & CEO, Great Manager Institute and founder director, Great Place to Work ® Institute, India shares the top questions you should consider before quitting.
Does your company have an effective business model?
All businesses fulfil a market need. However, successful organisations find a differentiated way of fulfilling this need. This is called competitive advantage.
Remember Uber Eats? Or Hike Messenger? Both had deep pockets. However, against established players in India, they could not execute a differentiated strategy.
If you are not able to articulate the competitive advantage of your organisation, you are probably on the wrong bus.
Is talent as important as customers?
Do you see your organisation aggressively investing in developing people, just as they invest in developing business?
Sometime back I was looking at the list of my most valuable clients- those who give me my highest revenues. I realised that 4 out of the top 5 clients were being managed by one colleague. In other words, this person was responsible for the total revenue I got from 4 out of top 5 customers. I put her name at the top of my list. Retaining her was more important than retaining any of my clients.
In most organisations people are treated as a resource to achieve the potential of the organisation. In a few, the organisation is a resource to achieve the potential of people. We call this the Employee=Customer mindset.
How well does your manager know you? Do they care?
The organisation may have multiple opportunities for you. However, it is your manager who can help you access those opportunities. I quit three jobs in my career after blaming my manager. What I didn't realise at that time is that the relationship between me and my manager is one of mutual dependence, between two fallible humans.  How much you know and care about your boss is as important as how much you think your boss knows and cares about you. You can put your manager in the following quadrant: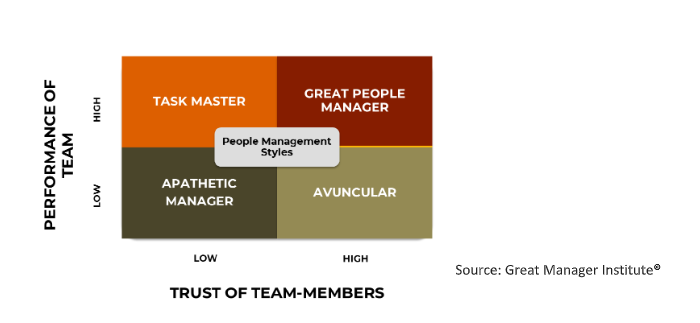 As a rule, leave a manager if they are in the "Apathetic Manager" quadrant, i.e., you neither trust them, nor are they able to make the team successful.
Is your market value increasing?
A manager who is a taskmaster may contribute to employees feeling burnt out, but you may still learn a lot from them. Post Covid, people realised that the only sustainable way to build a career is to stay relevant. If you are not learning fast enough and your market value is not increasing, leave. You may decide to stay with a lower compensation if market value is being built. Conversely, you may decide to leave for a lower compensation if you feel it will enhance your market value.
I was in an MNC bank doing a role that was not adding to my market value. So, when one of my mentors invited me to join his business and learn how to run a professional services firm, I jumped at the opportunity, although it was at a lower salary. That was 19 years back! In retrospect, that was the best decision I made.
Do you have peers who can challenge and inspire you?
Early on in my career I had the good fortune of joining a consulting firm. We worked across multiple functional and business areas and with many "difficult" clients. Our "real work" would start only in the evenings when we would be back from our client meetings. We would challenge each other and explore different ways to make our clients successful. This opportunity to work with colleagues who I thought were smarter than me was invaluable later in my career. I really believe I am the average of my peer group. Working with smart people, and those who can challenge you is good for you. Your career will depend on the company you keep.