'Stress is the health epidemic of the 21st century' - World Health Organization
While the global ecosystem today continues to battle it out with the outbreak of COVID-19, some parallel health concerns are coming to see the light of the day as industry reports and health institutions caution against this often overlooked component of wellness - mental well-being.
Scott Domann, Chief People Officer, Calm in his session at People Matters TechHR SEA 2021 shares how the focus on mental wellness shifted in the first year of the pandemic and continues as the workforce remains distributed and remote, encourages employers to demonstrate genuine care for employees through workplace practices and advises people managers to ask for help when needed.
Here are some highlights from the session. 
In a remote-first setup, put people first
With the sudden rush of remote working that caught the global workforce unguarded, leaders and employees alike, the focus for a majority remained on business sustainability and people safety. While people safety was worked upon through remote working to ensure everyone remains indoors to the extent possible, business sustainability, while necessary, was accompanied by its own consequences on the well-being of employees. 
Ensuring they translate employee care into workplace practices, here's how Calm is working towards its People Roadmap in 2021: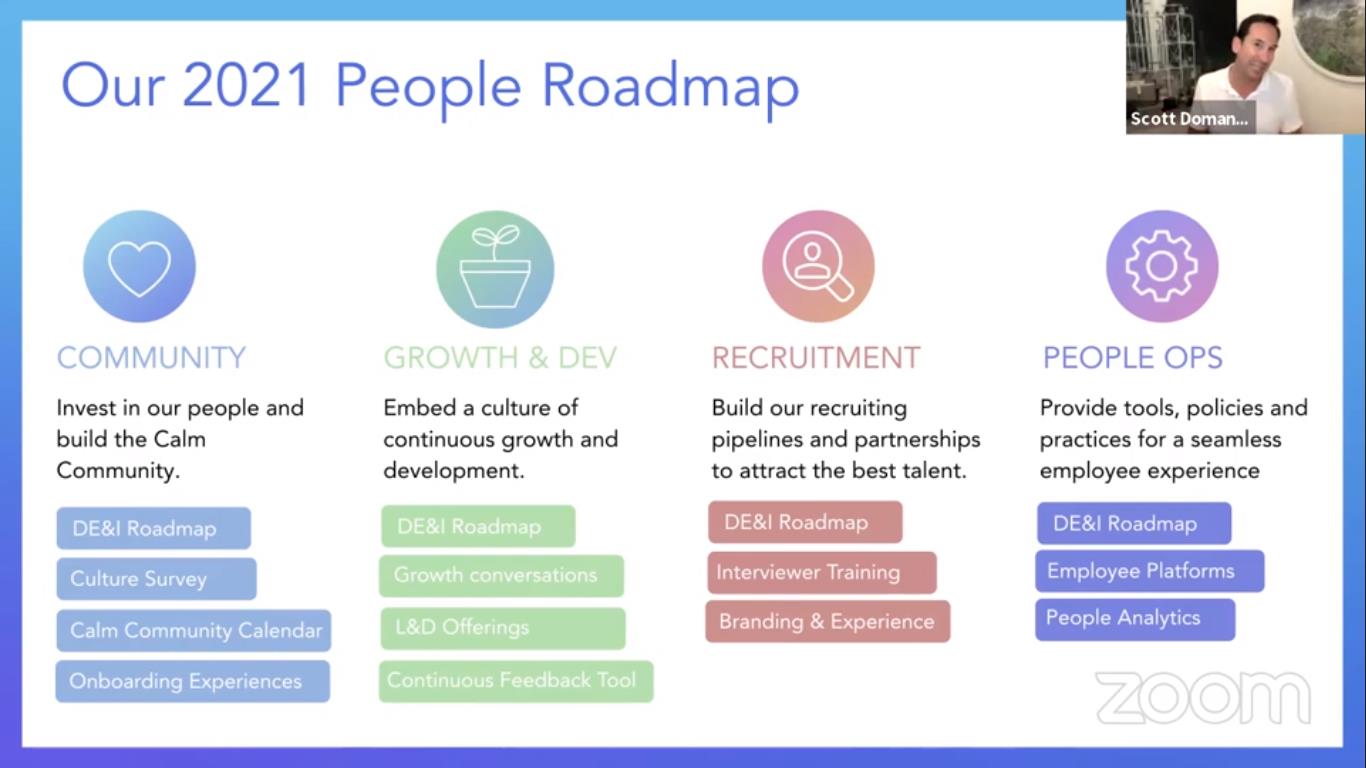 Alleviating stress and enabling stronger people connections
Beyond building workplace practices that accommodate the evolving expectations and needs of the workforce, and empowering them with a seamless employee experience, Scott Domann shared how the organization is also making focused efforts towards alleviating peaking stress levels and mental well-being of the workforce. Some of these initiatives include:
Time-off: Recognizing the far-reaching consequences of remote work on both work and life, Calm offers its employees mental fitness days and time off and take that much needed time to recuperate
Being inclusive of the new home-work environment: The pandemic pushed the global workforce into working from home, however, not everyone is equipped with the necessary work environment or a quiet work space to themselves in their home. Especially as professionals keep their videos on to make virtual connects more meaningful, there are often family members walking by in the backgrounds, sometimes even kids who need immediate answers and pets who demand attention. Scott advises employers to help employees not feel embarrassed or feel the need to say sorry in such instances. Instead, he suggests, use this opportunity to form deeper connections and normalize the occasional family guests on work calls. 
Making onboarding more connected: With personal connections facing a roadblock with remote work, Scott advises talent leaders to not let this distance get in the way,especially when it comes to hiring new colleagues. He encourages leaders to make onboarding experience even more connected and personal as employees navigate their new workplace remotely.
People Managers - Take care of yourself
The year has been as rough for people managers and leaders, as it has been for employees. They haven't just been delivering on their tasks, but have to parallely be the listening ear for all employee concerns. More often than not, they would have found themselves helpless as employees shared burnout and exhaustion concerns, as work had to be done for the business and livelihoods to make it through the crisis.
Time management and allocation has been a major concern for many leaders over the last year, especially as they strived to attain work-life balance. Scott encouraged leaders to be selfish about their time and invest it cautiously, both at work and on the personal front. 
He further advised leaders to normalize not having the answers all the time. It indeed is an uncertain time and the workforce seeks answers to a number of concerns. While it is only fair for them to have those concerns, the reality is that it is an uncertain time for leaders as well and they may not have all the answers. This is where Scott insists leaders to accept the unknown element and seek support themselves where needed. Such transparency will not just make leaders more authentic but will also motivate employees to step up and understand how they might contribute and collaborate with leaders more effectively.
Additionally, Scott also encourages people managers to make their virtual meetings more productive for their health by walking during the meetings over restricting themselves to a work desk. As much as Scott emphasized making virtual connects more personal and healthy, he also recommended taking Zoom-cations - dedicated time-off from Zoom and other applications that demand a significant time investment on screens.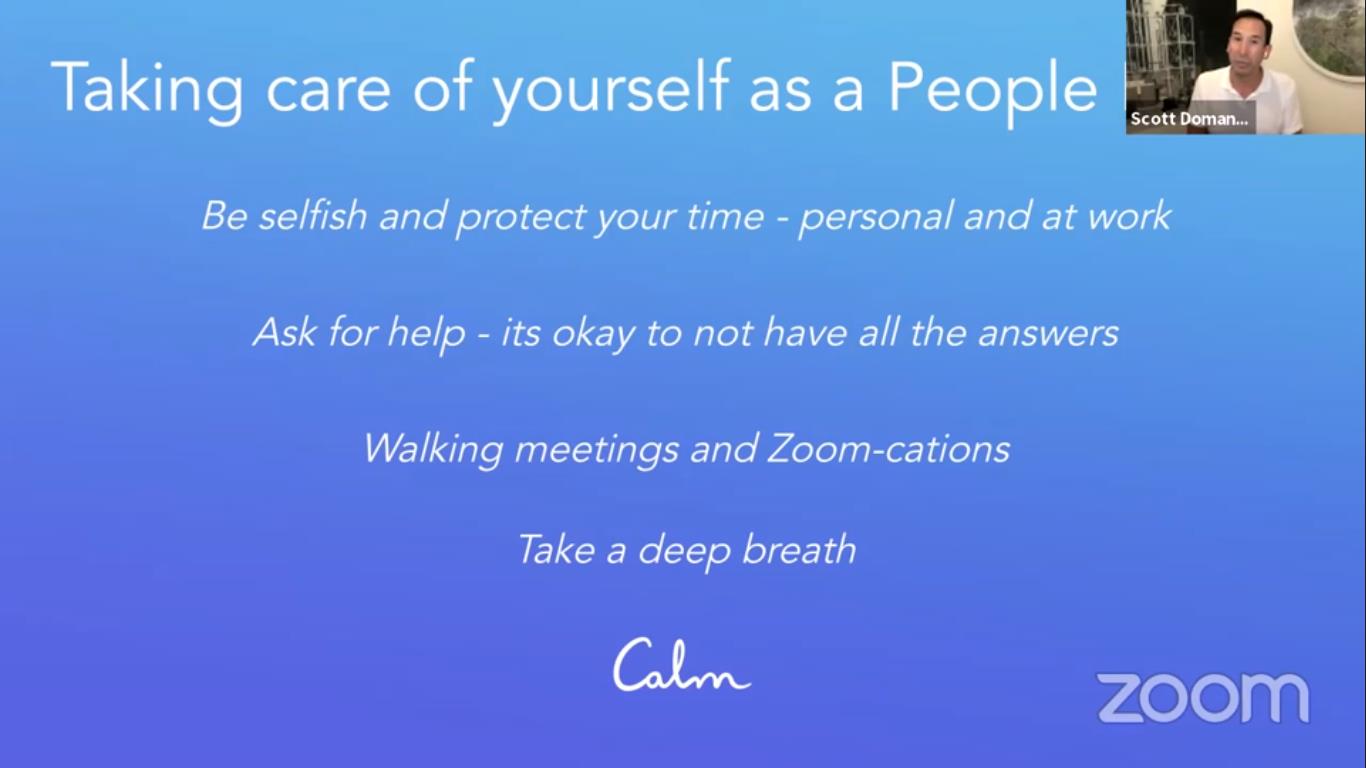 With remote work here to stay for an extended and unknown period of time, while it comes with its benefits, it's time employers think strategically about the long-term impact on wellness and redesign workplace practices and culture to meet the visible well-being needs of leaders and employees.