Check out how Qualtrics' EX25 guide can help your organisation improve the employer - employee relationship by delineating key ingredients of employee experience. 
Even before the onset of the pandemic, organisations have been working continuously towards hunting down and eliminating poor employee experiences in their workspace. The rise of the hybrid work era combined with the Great Resignation has further led to kick-starting a race of identifying key touchpoints of employee satisfaction and doing what matters at the time. 
Every organisation is looking for an edge on improving the employer-employee relationship and expanding it further down the line. That's where Qualtric's EX guide comes in!     
The crux of EX25 
As a professional, you can ask yourself .. Where does an employee experience management program like this one fit into all of this change?
In the world of remote work, employees are facing challenges when it comes to productivity and consistency. The constant attempt to be mindful and productive can potentially lead one to - 
Be at risk of burnout
Feel excluded from their teams
Get bogged down by clunky technology and processes
Leave their organisation to escape the above
Of course, no one wants their employees to leave their organisation in haste. Hence, what is needed is a guide that can fulfil the employee experience requirements.
Through purposeful, regular listening to key drivers of employee experience, EX25 gives organisations a foundation to make more informed decisions about what will keep their employees satisfied at work and attract top talent. Through its framework, EX25 provides employers with:
A guide that will enable employers and employees alike to give and share feedback so to improve EX
A set of scientifically validated questions for each employee experience KPI and experience driver
A selection of curated best practice frameworks designed to maximise operational efficiencies and outcomes
A set of guidelines that illustrate how organisations' employee experience KPIs compare to others in the same industry 
Action-driven guide made by experts that will help managers to meaningfully improve on each experience driver.
But why EX25?
In the words of Qualtrics' employee experience product science team, EX25 has been designed to complement existing programs across, such as those focused on well-being, diversity & inclusion, recruitment, and performance. Employing a team of Organisational psychologists which has covered a range of disciplines from Employee Engagement to Employee Assessment, they worked solely on the core idea of " Executives & Leaders + HR teams + Employees" taking the EX programs to the next level and influencing in combination.
Farren Roper, Head of Diversity, Equity and Inclusion, Qualtrics, comments that to accelerate progress and truly embed diversity, equity, inclusion, and belonging into the culture and operating rhythm of a company, make sure it's measurable and actionable so you can hold leaders to account and meet the commitments made to your people. 
Key Highlights
The remote & hybrid work has accelerated the new take on what it means to be an employee – and disrupted what employees expect when it comes to employer flexibility, work-life balance, well-being, and workplace safety.
With the help of EX25 guide and its main ingredients, organisations now have an opportunity to better understand the metrics and take actions accordingly. The four points below highlight one aspect each of how the guide can enable employees to understand the intricacies of the program:
A balanced EX scorecard: With EX impacted by multiple factors - from engagement through to inclusion and intent to stay - EX25 enables organisations to focus on what's most important to them.
25 Impactful EX drivers: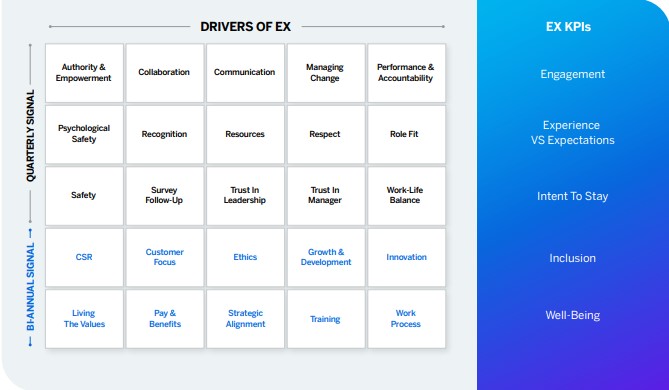 EX KPIs are directly proportional to taking action on the things that can drive them in execution (KPI drivers). Hence after a few weeks or months of new habits, employees will start to see their KPIs change.
Managing employee feedback through loops :
Outer Loop - Creating company wide strategy changes
Inner Loop - Tactical changes among smaller teams 
Closed Loop - Layered changes on team to team basis 
Taking action on the feedback by listening, assessing, huddling and acting 
Execution will lead to the combination of a holistic program that can enable employees to understand and act on feedback better.
With EX25, organisations can holistically understand employee experience and where to focus to drive impact, without adding more complexity to their employee-listening program.
An actual, mature EX program understands the feedback from employees, which is a critical data point to helping them be more productive and more fulfilled in their jobs. That's where EX25 rests its case! Click the link to read the guide in detail.