With remote working gaining a stronger foothold across the global economy, it is becoming increasingly critical to be intentional about communication, connect and collaboration.
In his masterclass on 'Creating Rituals to Drive a Culture of Collaboration' at People Matters TechHR SEA 2021, Jim Kalbach, Chief Evangelist at MURAL emphasizes the need to build virtual meeting rituals to build back the social capital lost in transition to remote work and encourages professionals to be deliberate and creative in designing these to foster both engagement and inclusivity.
Here are highlights from the session.
Why rituals are critical to remote collaboration
Jim Kalbach kickstarted the masterclass by sharing the results of a recent survey that identified key factors that frustrate employees when they collaborate remotely:
Building on Peter Drucker's philosophy - Culture eats strategy for breakfast - Jim emphasized that while values remain the invisible element of culture, symbols, rituals and stories constitute the visible enablers of culture. Storytelling has been known to work effectively across organizations as they strive to build a connect among people. Given the nature of remote work and virtual meetings, employees miss the social component of said connect. "Through rituals you can bring the missing social element in, even if you are not in the same room as your colleagues," suggests Jim.
Building virtual rituals with collaboration tools
Whenever you get onto virtual meetings, often while some members are completely involved in the meetings, some appear to navigate and multi-task with parallel windows, and some while attentive, choose to remain silent listeners and not participate in the discussion. Given remote work is expected to stay on for an extended period of time, it is high time employers made deliberate efforts to drive engagement and collaboration in these virtual meetings through a culture of rituals.
Jim describes these rituals as 'intentional activities with unique results that require listening and empathy'. He cautions professionals to not mistake rituals for routine, and encourages them to leverage meetings as an opportunity to build authentic connections across a distributed workforce while creating a space to 'help bring new voices into the culture'. 
There are a series of collaboration tools today that provide a platform bringing a distributed workforce together through an experience that strives to overcome the element of distance. One such tool that Jim shared with the participants was Mural. He shared two interesting focus areas that can be addressed by leveraging collaboration tools:
Check-ins and warm-ups: Instead of jumping straight into work discussions, Jim advised leaders to do an interactive virtual check-in through a virtual mood analyzer whiteboard. This can help the team be aware of how each other is feeling, further enabling them to tailor their communication more suitably. This ritual helps keep the team connected while paving the way for meaningful and purposeful conversations.
Turn taking: Another opportunity to leverage collaboration tools for virtual meeting rituals is simplifying the process of taking turns in sharing ideas and thoughts, while also making way for inclusivity by ensuring everyone in the team has an opportunity to express their thoughts and opinions. 
Often team members either end up interrupting one another or speak up at the same time or remain hidden behind the mute option. By building a ritual to streamline conversations, teams can effectively communicate, ensuring the involvement and participation of each and every member. Through a breakout room activity, Jim encouraged the participants to brainstorm and come up with creative ideas to use the tool for the purpose of establishing turn taking mechanisms.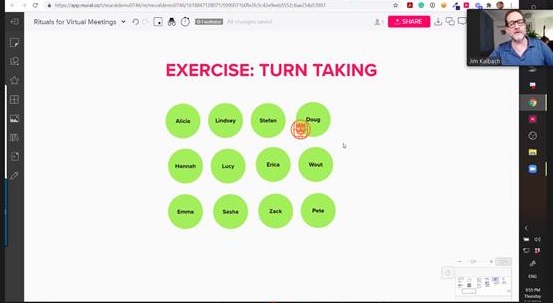 Reset rituals for new work environments
Rituals indeed are critical to building an enabling cultural environment, especially as remote has made a dent in the social connection that came with in-person meetings and catch ups at the watercooler. There are no two ways about the impact these rituals can have on team morale, productivity and collaboration. However, what might work for one, might not work for all. Which is where Jim advised resetting rituals where needed, but keeping at it.
The crucial aspect is to keep experimenting and making these rituals continuous. Culture in the new work environment demands deliberate efforts, and through engaging rituals, employers can strengthen the social capital and foster inclusivity and a stronger sense of community in the evolving remote and hybrid workplace.