Have you ever wondered why some individuals face stressful situations and yet emerge centered and serene? And even when they falter they come across as learning from the situation. So, why do some people suffer real hardships and not falter? Somewhere I get the impression it is all to do with what I call RQ - the Resilience Quotient. 
Recently I was invited to speak about RESILIENCE at a forum to address 70+ senior business industry leaders. As I started my preparation, two celebrity Leaders came to mind instantly - Sheryl Sandberg and Ariana Huffington. These two leaders have been vocal about the importance of resilience through their own unique experiences and how this one attribute is going to carry us forward especially in these Covid times. 
What is Resilience? 
Every time I face a crisis or unprecedented situation, I am reminded of this quote "Life doesn't get easier or more forgiving, we get stronger and more resilient". This thought resonated with me every time I watched the protagonist Thakur of Sholay struggle to get justice for his family members who were brutally murdered by the villain (Gabbar). With no hands, no army in place; he placed his trust in two small-time thieves who would be inspired to fight on his behalf. What an irony, yet Thakur managed to take his revenge while exhibiting resilience at various points of time - he believed in himself. 
How does Resilience matter?
It is no surprise that resilience is part of our character and therefore influences our professional and personal life. In other words, our grit, gumption and gall have the propensity to not just lower our depression levels but more importantly help us bounce back. But this has to be backed by strong relationships at home and outside. These interactions assist us in getting a perspective and then help us to alter the magnitude of the challenge we may be facing. Sometimes discussing, engaging and empathising with others helps one realise that their situation is not as bad as it seems. And in fact, these interactions may motivate us to look forward rather than sulk in the current situation.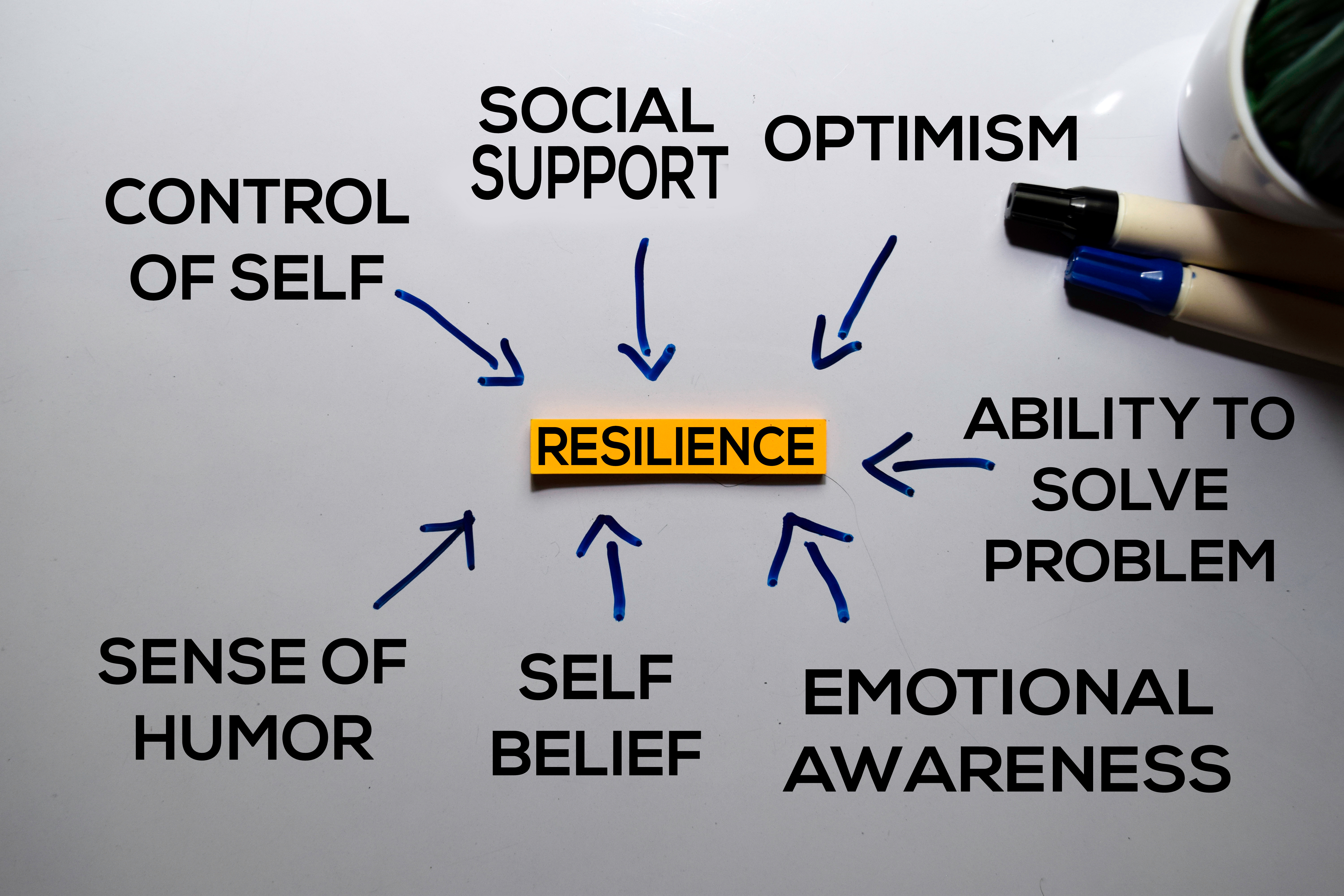 How can I develop resilience and make it a part of my DNA?
Simple. I am going to share 4 simple Mantras with you and see if it works:
Step Back: Every time you face a situation that pulls you down and you feel low, Shut off and take a step back. Think pragmatically if your friend was in this situation, what would your advice be to resolve or help her come out of it. Many times, we get emotionally involved and it becomes difficult to logically evaluate and arrive at a solution, therefore it's necessary to cut the umbilical cord and think logically.  
Be realistic yet optimistic: Optimism is the key to your mental well-being but it should have a strong foundation of having a realistic approach. While reaching for the moon and stars, make sure you keep your mind balanced and proactive on the possible concerns that might arise and your plan to address them.
Connect: When you are low, many folks tend to go into their shell and get introspective and this is good for some time, However after a point, reaching out to just speak or ask for help from someone who you can confide with, who you believe will listen and provide you counsel or a different point of view for you to shift your mindset.  Sometimes you just need someone to ask you "How are you today?" Reaching out to people is a sign of strength, not of weakness. 
Stay away: It's a well-known fact "sometimes you change your mind and sometimes your mind changes you". You must stay away from thoughts and individuals who have the "power of influence" to sabotage you and your thoughts. Resilience may take you far but some conversations may test your resilience. Why put yourself on the burner when you can have a smooth ride?
Resilience for me is in this final statement - I can be changed by what happens to me but I refuse to be reduced by it! Now it's time to Build and celebrate those stories of resilience.
Wishing each one of you a life full of resilience ahead.