"We've seen the world of work evolving for quite some time already. And with what happened with COVID, that has only been going faster, and really disrupted the world of work, making employee experience more relevant and ever," shared Tom Dewaele, Unilever's Global Head of Employee Experience, as he kickstarted his keynote address at People Matters EX APAC Conference 2021.
In his keynote, Tom spoke about the four key forces driving employee experience like never before and reflected on how Unilever's digital EX journey is helping the organization focus on moments that matter while also enhancing business performance.
Here are highlights from the session.
The driving forces behind the post-pandemic EX landscape
Reflecting on the post COVID-19 EX landscape, Tom shared that employee experience today is more valued than ever because of a number of forces driving it. He highlighted four key forces: 
Borderless workforce
Well-being and safety
Workplace modernization
Digital support at one's fingertips
"Within Unilever we have really tried to access the global talent workforce in a borderless way with artificial intelligence which is helping us to match certain needs that we have, or certain assignments that we have with the best person, with the best capabilities, not to where the person is located or not to the background. It gives us a completely different access to capabilities, and it gives people a completely different access to develop themselves," said Tom.
Discussing the importance of well-being and safety today, Tom noted that the focus on working in a healthy way and a healthy workplace has never been bigger. "If we want to talk about employee experience with the future lens, it should be with a focus on a healthy workplace." Catering to the current wellness needs, Unilever has launched several well-being initiatives, along with a network of well-being champions throughout the world. Through these, the organization is supporting peer to peer mental health conversations to build psychologically strong teams. 
Commenting on workplace modernization, Tom shared that workplaces are now a much more fluid concept. "The role of the traditional workplace has evolved. It's going to be around connecting people to create social capital. That means that we need to redesign workplaces to fit that new role. It's more around building community, than it is about time or place."
"A workplace is not anymore just about focus work, it's around bringing people together, making connections and really creating social capital. For that, we need to redesign our offices."
Last but not the least, Tom believes that as people continue working in a borderless way, working anywhere, anytime, digital is the only solution to continue to give people support whenever and wherever they need that. Building on this belief, Unilever worked towards building a digital workplace with digital support at people's fingertips, personalized through the data that the organization had on its people. "We made an attempt to create a one stop shop in a digital way for people to find their way and get their daily things done."
Emergence of Unilever as an experience maker
"At Unilever we are taking a leap, which has been going on for around two years. We took a leap to move away from the traditional setup of processes, from the traditional setup of specialized functions to a world of experience makers." 
The organization has been working towards becoming experience makers, to create simple, special, consistent and inclusive experiences to thrive in a hybrid world, with employees right at the center of it all. 
"As a team we say that we want to make every day simple, special days specials and make people thrive in a hybrid world. That's what we want to do. If we can do that for our people, we will have more engaged talent, people will feel an increased sense of belonging towards the company, and that will result in driving better business results." 
Here is a snippet of how Unilever is approaching employee experience like never before: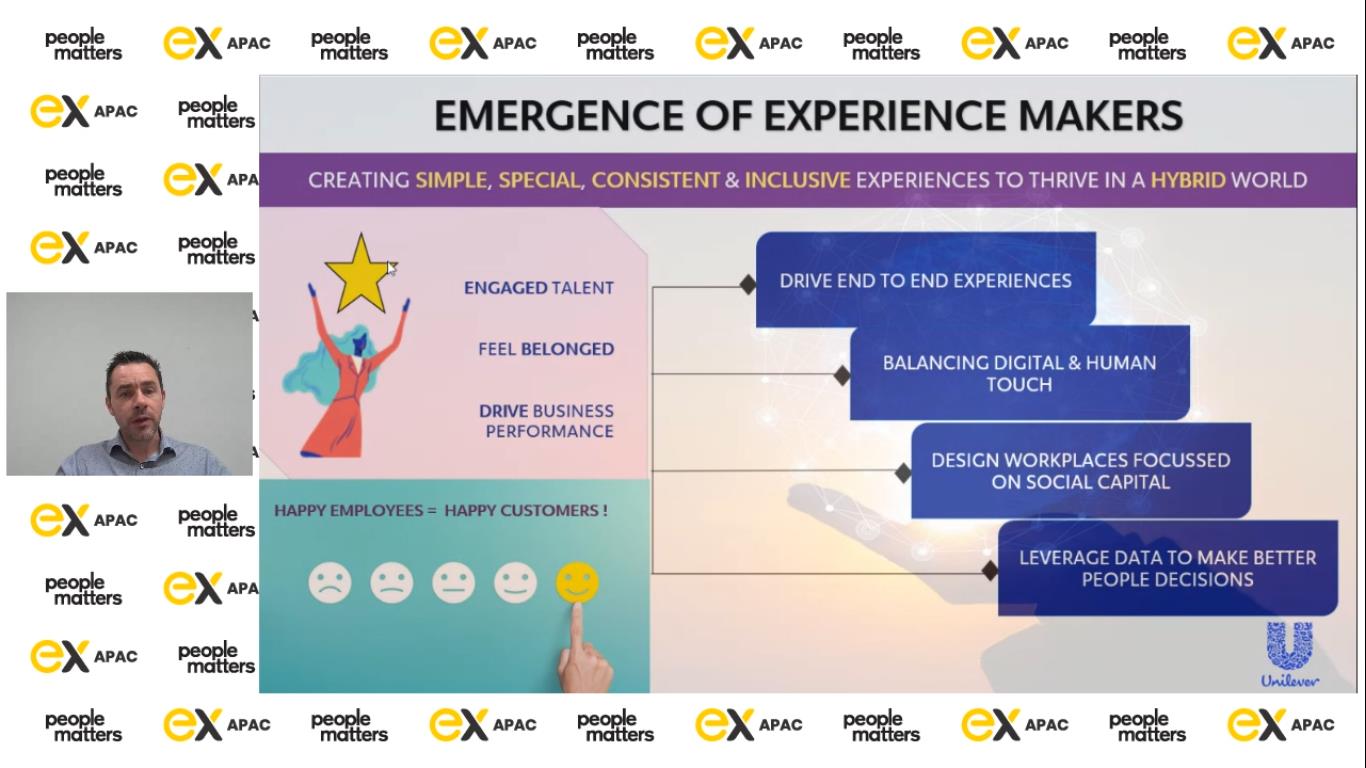 Further, Tom highlighted that in becoming an end-to-end employee focused experience maker, the organization is very much focused on finding a balance between digital and human touch. 
"Digital is our opportunity to do many of the things that used to be done by humans in the organization in a much faster, easier and more integrated way. That gives us the opportunity to free up capacity, capacity that we can then invest into imbibing human touch in the moments that matter most. That's the choice that we can make today."
"By leveraging digital data, we can actually bring enable meaningful human touch, not in every moment, but in those moments where we deliberately choose to make a big difference."
Unilever's EX digital journey
Emphasizing that EX is a journey, Tom highlighted that the most important piece is to keep employees right in the middle of what you are doing. With that ideology, Unilever focused on five key elements to make their digital EX journey more impactful:
Experience heartbeat and insights: "In everything that we do, we are making sure that the voice of the employee is constantly on the table, we're listening to the voice of the employee and that's what's central in designing our experiences." Unilever also has built a robust "HEART" framework to consistently measure the progress and impact of its efforts as an experience maker.
Digital workplace: "We have a single place where people can find their way. Microsoft Teams, that's our digital workplace. That's the backbone or digital infrastructure where people are working on a daily basis. That as a digital workplace needs to make sure as well that it looks and feels like Unilever, so that people are continuously connected to who we are as a company, and what we are trying to do." 
Digital assistant: Unilever's digital assistant, Una, is a one-stop shop digital self-service support tool for employees that is integrated with its core systems, to answer employee queries on the go. 
Turbocharging recruitment: Unilever's recruitment practices today are fully supported and quite disruptive in the way they apply and leverage digital.
"From the start of the candidate experience, to all the way down to the selection, we've been investing heavily in a lot of technology, and a lot of digital support to make that a better, smoother and faster experience."
The organization has a single unified application tracking system which helps them personalize candidate experience. It has developed a new career website with the highest level accessibility standards to ensure the career opportunities are accessible to anyone who wants to work for them. 
Digital tools for safe return to the workplace: Unilever has leveraged digital tools to help the workforce do health checks, safety checks, as well as plan for preferred desks across any of their offices, "so that when they are in the office, they can fully focus on what they are there for, which is building social capital, connecting with people and not around, trying to find a desk or trying to fill in some feelings of forms."
Commenting on embracing digital to become experience makers and focus on moments that matter the most, Tom said, "It's not the choice between digital or human. It's embracing digital to do things in a different, faster, better and more personalized way, that gives you the opportunity to make a deliberate choice of when are you going to make the human touch stand out more. And those moments you choose in line with the culture that you have at the company, in line with the things that you want to stand for as a company." 
As a result of all the efforts the organization has made towards building an impactful digital EX journey, the feedback Unilever has received from employees is that the organization was there for those moments that really matter to its people, driving greater engagement and loyalty, enhancing performance, and solidifying the organization's desire to be an experience maker. 
"We took a leap to completely change the way that we've been working. We took a leap to become experience makers, which was roughly two years ago. It has been a journey, and we're definitely not there, but it's an exciting journey and I believe it's the right journey."