In a tweet on Tuesday, Elon Musk, the CEO of Twitter, announced that audio and video calls will soon be available on the platform. Musk stated, "Coming soon will be voice and video chat from your handle to anyone on this platform."
"So you can talk to people anywhere in the world without giving them your phone number," he added.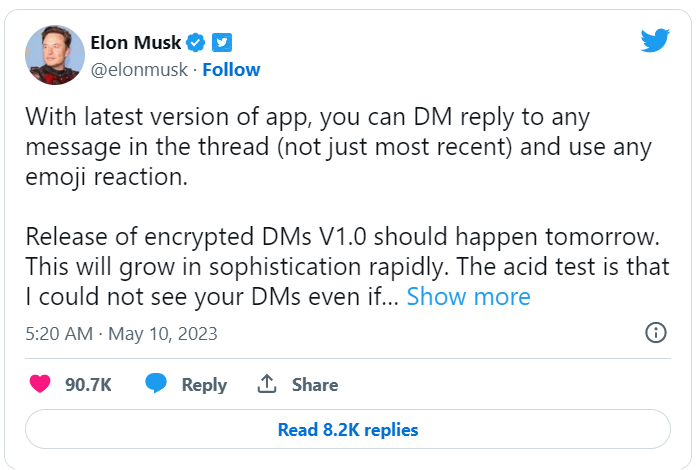 Following his initial announcement, Musk took to Twitter again to express his skepticism towards the trustworthiness of Meta's WhatsApp messaging service. 
Introducing a messaging feature on Twitter would bring it into competition with various free services like Messenger, Signal, Telegram, and WhatsApp.
Musk further revealed that starting Wednesday, Twitter will begin encrypting direct messages on the platform to enhance privacy protection by scrambling message contents. 
Since acquiring Twitter for $44 billion in late 2022, Musk has introduced changes in a seemingly impulsive manner, occasionally causing disruptions for users. 
The CEO of Twitter has publicly discussed his plans to develop an all-encompassing "X" application that integrates messaging, payments, and other functionalities.
Recently, Musk incorporated the tech firm into an "X" shell corporation, discarding the Twitter company name while still utilising it for the service.