Shopify has initiated a new round of layoffs following the release of its first-quarter results, as reported by several employees on social media.
This Shopify layoffs will mark the second instance of significant job cuts by the company. However, this time, the reduction is expected to impact approximately 20 per cent of the workforce.
Following the release of its first-quarter results, Shopify's announcement of layoffs coincided with exceeding the majority of Wall Street's estimates, resulting in an almost 8 per cent increase in the company's shares, according to international media reports.
A Shopify employee shared on LinkedIn that he was laid off on Thursday night at 7:05 pm and expressed that this event confirms that employees are "price takers" who are susceptible to the unintentional errors or actions of others.
"I've been impacted by the latest Shopify layoff. I received an email at 7.05pm last night telling me it was my last day at Shopify," he wrote. 
Another Shopify employee shared their experience of being laid off on LinkedIn, revealing that he was a part of the 20 per cent of the workforce impacted by the recent job cuts, which primarily affected the company's logistics branch.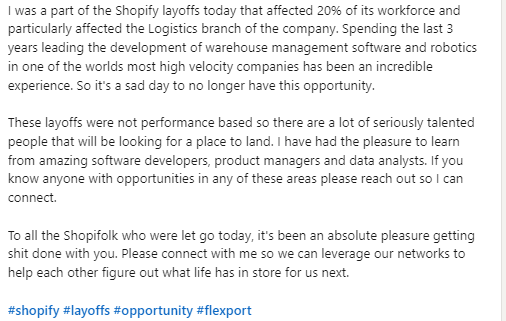 Around 1,000 employees, which accounted for nearly 10 per cent of the workforce, were laid off by Shopify in 2022. Therefore, the current rounds of layoffs, occurring despite the company's strong quarterly earnings, are unexpected during a time when the global economy is already facing concerns of a recession.
According to reports, Shopify's founder and CEO Tobi Lütke has informed the staff that these layoffs are necessary as consumers are returning to their previous shopping patterns and moving away from online shopping.
"It's now clear that our bet didn't pay off...Ultimately, placing this bet was my call to make and I got this wrong...We're also eliminating over-specialised and duplicate roles, as well as some groups that were convenient to have but too far removed from building products," he wrote in the memo as per Reuters report.