Following the elimination of 11,000 job roles in 2022, Meta has announced plans to lay off an additional 10,000 employees. CEO Mark Zuckerberg has acknowledged that the company 'overhired' during the pandemic and is now facing challenges in navigating tough economic conditions. 
Numerous employees have shared their experiences of being laid off, including Chell Sterioff, who had been employed at Meta since May 2021 and was based in the US. However, like thousands of other employees, her role was abruptly terminated.
In the early hours of the morning, Chell Sterioff received a life-changing email from her employer, Meta, informing her that her last day at work would be that day. Prior to her time at Meta, Sterioff had worked at Microsoft for over a decade.
Sharing her experience on LinkedIn, Sterioff recounted, "After working at Meta for over 2 years, I received a notification at 4:06 am that my role had been affected by #metalayoffs and that it would be my last day. As a result, I am now #opentowork."
Expressing her gratitude to Meta for the opportunities she had, Sterioff added, "I am thankful for the experience of working at Meta. I learned a great deal during my time there. After spending 1.5 decades at Microsoft, it was a significant cultural and engineering shift for me, and I can genuinely say that those I worked with embodied the company values - be bold, be open, build awesome stuff, and more. To my FPM Metamates and fellow FB TPMs, I will miss collaborating with all of you. I hope our paths cross again soon in this vast yet interconnected tech world, and in the meantime, I wish you all the best in your respective adventures."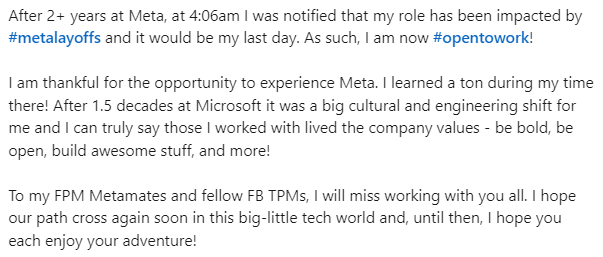 Around five months ago, during Meta's initial round of layoffs, Sterioff had shared a post on how she woke up with a sense of anticipation about the possibility of being laid off, as early as 12:51 am.
Her post read at the time, "My day today started at 12:51AM PST. I woke up (unintentionally) in anticipation of a possible layoff announcement at #Meta - which would be the latest across the industry this week. This morning Meta employees across the US woke up to an email that 13 percent of the company would be laid off."
In a related revelation, a former Meta employee disclosed that she was paid $200,000 (Rs 1.6 crore approx) despite having little work to do due to the limited workload in the organisation.
As Meta continues its widespread employee layoffs, attention has turned to the travel expenses of CEO Mark Zuckerberg. According to a recent report from Business Insider, Meta disclosed in a proxy statement filed earlier this week that it spent almost USD 2.3 million in 2022 on Mark Zuckerberg's private jet travel, surpassing the amounts spent in previous years before the Covid-19 pandemic.
The filing further disclosed that Meta has spent over USD 27.1 million in 2022 on 'all other compensations' for the CEO.
In February of this year, reports emerged that Mark Zuckerberg's security allowance had been increased to USD 14 million. This meant that the company would be paying an additional USD 4 million (approximately Rs 33 crore) towards Zuckerberg's security, as his security allowance had previously amounted to USD 10 million.