Amid all that the turbulent 2020 threw at the world, a key element enabled the global economy to sustain and make the leap as they continued to adapt and improvise on the go. In other words, the global economy continued to "learn" and plug in those learnings across a breadth of organizational initiatives that were crafted to navigate the rough waters brought on by the pandemic. 
Discussing this key element of learning in creating the next wave of human capability, industry leaders from across the globe came together for an exclusive and interactive "People Matters_BeNext Roundtable discussion on New approach to L&D: Everything you need to know" at People Matters L&D SEA Conference 2021, moderated by Ester Martinez, CEO and Editor-in-Chief, People Matters. The roundtable discussion strived to find answers to pressing questions like:
What is the role of HR and LnD leaders in creating the next wave of human capability? 
How to scale learning solutions for reskilling for hybrid & distributed working models?
What are the successes and learnings for L&D from 2020?
What did leaders have to say abot the above? Read on to find out!
Creating the next wave of human capability
Understanding the role of learning and development in the present context, the discussion kickstarted with the quorum being distributed into break out rooms to brainstorm and identify how they perceive the function's evolving role as learning professionals work towards building workforce capabilities for the new world of work.
Using an interactive online tool, replicating a whiteboard virtually, leaders shared their thoughts on the changing role of HR and L&D leaders as they work to redesign the capability landscape. Some common themes that emerged from the activity include:
Ensure the adoption of digital learning
Prepare employees to meet customer and business needs
Emphasize critical skills, but don't forget behavioral skills
Partner in embedding desired culture
Offer ongoing support and coaching
Provide tools to ensure employees are applying knowledge in the workplace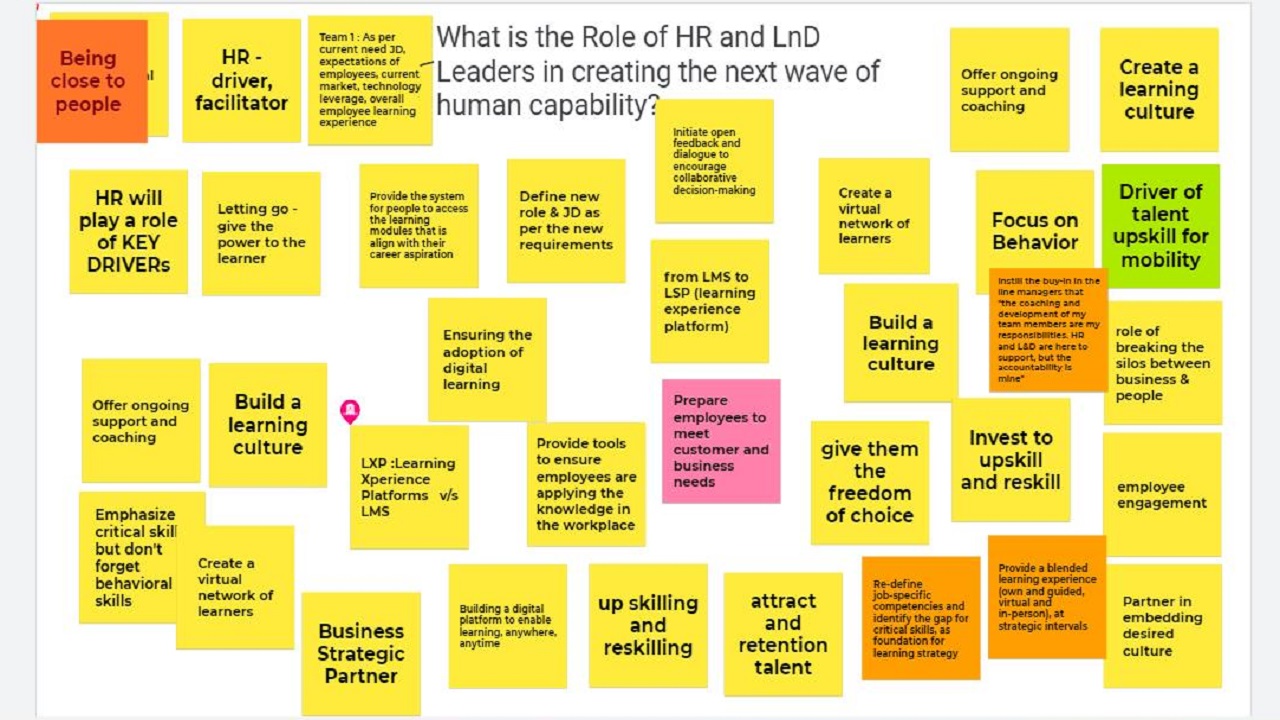 A unanimous understanding was prevalent on the thought of building a digital platform to enable learning, anywhere, anytime. While digital learning was already gaining visibility prior to the pandemic, circumstances have fueled greater adoption of digital learning tools. Be it in-house or through renowned learning moguls and corporations, digital learning is the way forward.
Kanykei Omorova, Group Assistant General Manager, L&D at International SOS highlighted the crucial role of L&D in helping companies, leaders and people become more agile, accept the importance of mental health, and embracing the virtual experience rather than being stuck in the old ways of face-to-face interactions and working. 
Kunal Wadhwani, Group Head - HR GCC at Choithrams Group, shared an interesting thought, "Skills can be taught. Attitude cannot be taught. The current advent of automation or digitization are rapidly shaping the job market. And as the current pandemic fades in due course of time, there will be greater urgency to prepare leaders and employees for the future. This will require HR and learning professionals to dramatically reorient and revise their training calendars."
"In the future, behavioral skills will be the area with more significant gaps than digital skills," said Kunal.
"Relationship building, people development, critical thinking, communication skills and accountability will be the most important areas, and in spite of organizations tightening budgets at this particular stage, there's going to be a significant development opportunity to focus on these behaviour skills that are key to high performance," he added.
Kunal further cautioned learning and talent leaders that the present circumstances could also lead to developing traits like fear, risk avoidance and a survival mindset, and encouraged them to use these experiences to develop people to adopt a problem solving and opportunity focused mindset.
The ongoing disruptions have led to capability building becoming a top priority to survive and thrive. With the emerging inclusion of digital, and burning need for behavioral skilling, an important question surfaces - how can leaders scale learning solutions? Let's find out what leaders think about it in the next section.
Scaling learning solutions for hybrid & distributed working models
From understanding the evolving role of the L&D function, leaders next discussed how they can scale learning solutions in the prevalent distributed working arrangement. In the present day, it's not just about what you want employees to learn, but more about how you enable that learning.
Heading into breakout rooms once again, leaders discussed how employers can scale learning solutions. Some of the suggestions were:
Adopt artificial intelligence in learning 
Simulation and gamification
Leverage mobile apps and technology
Cohort based groups that strengthen social bonds
Promote self-learning through online platforms
Co-create and deliver learning activities with business SMEs
Video learning bites for easy access
Reiterating Josh Bersin, Alexander R, Director Human Resources, Oracle said, "New leaders will find rhythm in algorithm," as he explained the relevance of increasing involvement of AI in learning. He emphasized the focus on balancing high-tech with high-touch, with the latter focused on coaching, mentoring and peer-to-peer learning. Decode how to marry "artificial intelligence with natural intelligence", he suggested.
In addition to AI, simulation is bridging the aspiration of 70:20:10 learning principle, with 70 referring to on-the-job learning, said Theresia Kusumaningtyas, Head of Learning and Development at PermataBank.
"Simulation will be essential for employees to experience the complexity of a job in the virtual workplace. It will help employees learn at a faster pace," she added.
Advising leaders to tap into the inherent competitive sentiment in employees, Kanykei Omorova noted that gamification is gaining significance and helps strike two goals together: Building a learning culture and keeping employees engaged.
While learning is one aspect, keeping track of the progress and relevance is another key element. Emphasizing the use of analytics to monitor learner progress as we move on, Kunal Wadhwani said, "Providing learning to a large number of new hires is one thing, and knowing how learners are performing is another one. Monitoring a large group of learners, especially online, is more effective with access to dashboards."
Scaling learning solutions, like other organizational goals, comes with a caveat. One size does not fit all. While the above suggestions cover a broad range of ideas, implementation will vary with individual organizational capabilities to execute. And if the pandemic has prepared global economies for anything, it is to try and either succeed or learn and adapt.
A journey of learning together
In the final section of the discussion, leaders reflected on their success stories and learnings from the last year. Among success stories was a reduction in cost and improvement in consumption of behavioral programs and self-paced learning, and despite increase in the number of programs, learning professionals no longer have to worry about logistics. That is a definite win for the learning domain, given the heavy emphasis on minimizing costs through the last year. In fact, a leader shared that virtual learning engagement and penetration remained high with savings of 70% in the budget.
While learning continues to remain an investment, organizations are migrating to alternative avenues to keep costs low, and engagement, impact and convenience high.
A leader shared that due to low budget, they use simulation videos through conversation platforms like telegram or whatsapp for easy access. Beyond cost savings, employees can access these resources as per their convenience, accompanied with a reward as a learning incentive.
While learning professionals were quick to reset learning modules and mechanisms to virtual learning, a lag emerged in tracking effectiveness of virtual learning. The sudden switch to making learning accessible spurred innovation in making learning available to all, however, the focus was more on making learning accessible than tracking the efficiency. Given the extraordinary circumstances, it can be argued that it was the need of the hour, however, as organizations now find a stronger ground to hold onto, they can improvise the makeshift mechanisms and plug in ROI as a tracking metric.
With learning being a journey, Sagar Radhi, HRBP, Cognizant noted that, "Experience is very important in the current context. There are lots of tools and techniques available. But L&D professionals must first be hands-on on the technology being used, only then can they drive engagement and impact in learning programs.
While learning does remain a journey, it sure helps to be aware of how are other organizations working towards their learning goals, how are they adapting goals to suit the current workplace context, and what avenues are they exploring to transform learning into a business as well as people investment, especially when growth and skilling is key to thriving in the long-term.
Closing the discussion, Ester Martinez noted how relevant sharing is to each one of us as we grow through the journey. Encouraging openness to learning for all, she noted, "There are no failure stories, but learning stories."