According to a recent market study published by Growth Market Reports titled, "Team Collaboration Software Market by Deployments (On-premise and Cloud-Based), Software (Communication & Coordination and Conferencing), Applications (IT & Telecom, Retail, BFSI, Manufacturing, Healthcare, Logistics & Transportation, and Education), and Region: Size, Share, Trends and Opportunity Analysis, 2018-2028", the market was valued at USD 9.3 billion in 2020 and is expected to reach USD 24.02 billion by 2028, expanding at a CAGR of 12.4 % during the forecast period, 2021 – 2028. The growth of the market is attributed to the rising need for visual data exchange and digitization.
The report further states that-
Companies have started understanding the benefits of affordable video conferencing solutions, which in turn, is driving the demand for team collaboration software.
Rising demand among organizations for smart meeting rooms is driving the market.
Increasing need among employees to gain uninterrupted wireless access to meeting rooms is expected to boost the market.
Organizations are heavily investing in mobile technologies, which can enable anytime, anywhere workforce.
Indeed, one thing that changed work models in 2020 have shown is how important digital collaboration, digital readiness, and collaboration tools are to survive and thrive in today's post-pandemic work environment. The rise of the hybrid workplace has further amplified the need to invest in the right digital collaboration suites for your organization. 
Digital Collaboration Suites - key to future of work and the hybrid world
A big reason that the global economy could keep running in the midst of this global pandemic was due to an ever more advancing slew of digital solutions that mimicked and even supplanted existing physical paradigms. To foster more collaboration and contribution among a geographically distributed workforce, what organizations need is a common platform, and app where employees from across the globe can share, organize, and analyze feedback, regularly and on a real-time basis. 
This has led to the rise of complex, organization-spanning collaboration platforms designed to do everything from enabling employee communication to meetings, document sharing, and more, all from a connected device.
The use of these platforms is paramount to the success of an organization during these difficult times, especially when operating a hybrid workplace. These productivity platforms increase communication effectiveness and help create a virtual office environment, allowing team members to collaborate like never seen before, perhaps even better than in-person.
Thus, collaboration platforms like Lark have an important role to play in increasing remote and hybrid workplace productivity by providing companies with the appropriate tools to communicate effectively. The bottom line is, if you want to do business in the modern digital economy, you need to start investing in digital productivity platforms.
This trend will keep evolving as seen in a recent survey conducted by Lark and Milieu Insights, only 1 in 5 respondents were very satisfied with their remote work and collaboration setup.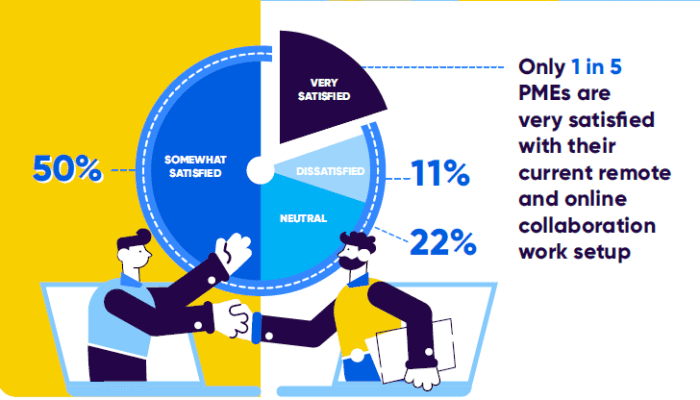 The poll included over 1000 respondents who are currently employed in a PME (Professionals, Managers, and Executives) role or vocation and working at least 35 hours a week also highlighted that 7 in 10 PMEs agree that having one tool that supports all needs is essential in making work more enjoyable.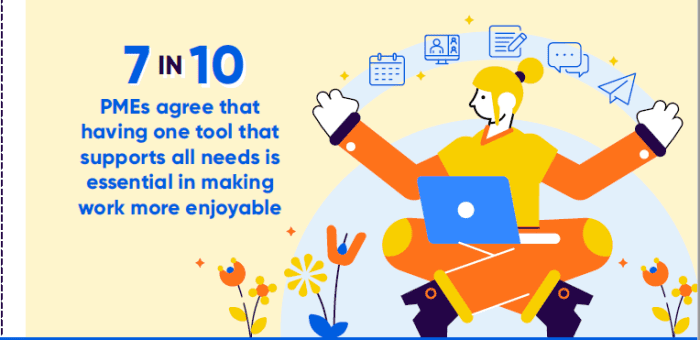 Building a culture of digital collaboration with Lark
A key takeaway from the survey was that most respondents were not satisfied with their current remote working tools indicating that they were adding friction and reducing efficiency. This is where a full-stack collaboration suite like Lark can step in to provide a consolidated platform that enables employees to collaborate effectively and seamlessly, irrespective of their size or location. All conversations, documents, and meetings can be accessed with a mere click, increasing efficiency and furthering collaboration.
Lark comes with features such as
- Lark Messenger, which is an integrated chat messenger that makes communication easy with features such as easy access to chats by pinning, emojis, and auto-translation.
- Lark Meetings,  which provides a seamless video call experience with unlimited minutes and live subtitles. With powerful in-call screen sharing capabilities, Lark video call enables users to share their screen, local documents and even Lark Docs directly from the video call window.
- Smart Shared Calendar, which helps users manage their time, so that all one has to do is show up. Seamlessly integrated with Messenger and Meetings, Calendar makes it easy to book a meeting, stay on schedule, and engage the whole team.
- Lark Documents, allow users to create interactive documents with rich content. Users can create and edit documents in the cloud without switching to other applications. Everyone can edit at the same time and in the same file. Docs and Sheets support real-time collaboration, full history tracking, powerful rich media, and easy permission control. All of your documents are saved in Drive, allowing users to quickly access any file from anywhere.
- Lark Mail, which integrates email with other essential work tools. It allows to include an entire group chat as a recipient when sending an email to avoid typing each address individually. When sending a Doc or Sheet via email, one can see clearly whether your recipients have access, and give them the permission to read or edit in one click. 
In addition, Lark lets users engage with a range of different chatbots, each with its own unique functions. Users can instruct bots to send you reminders, post messages, and help automate workflows. 
Better virtual meetings with Lark's SamePage Method
Virtual meetings are quickly becoming the new norm in the workplaces of today. Mastering this ever more ubiquitous paradigm is a tricky affair, especially with the speed at which teams have gone remote and businesses have adopted hybrid working models.
Keeping everyone on the same page, focusing on what's important, giving everyone time on the agenda, making good use of icebreakers, increasing inclusion with polls and through strict intolerance of disrespect, encouraging video-on policy, and finally keeping virtual meetings as short as possible are some of the ways in virtual meetings can be run in a better way.
However, it is still noticed that the inefficiency of virtual meetings and loss of valuable time is still a big problem to surmount. According to a study published in the Harvard Business Review executives spend an average of nearly 23 hours a week in meetings. Added to these are problems of meetings that go on forever and just don't produce any tangible result.
In order to make meetings more efficient and actionable, Lark developed the SamePage method, giving teams the power to create robust collaboration experiences. 
In this method, before the meeting, the organizer captures background details of the meeting in a Lark document and shares it with the attendees in the meeting dedicated chat room. For the first 15 mins, everyone goes through the document, adding comments and feedback. After it's done, attendees discuss the same one by one. With one click, a to-do list can be produced, with each item assigned and dated. Task owners are automatically sent reminders before the due date to ensure nothing is missed. 
When used together with Lark's features, the SamePage method is especially effective for remote team members, thus increasing the effectiveness of meetings, cutting out unnecessary back and forth emails and unwanted tasks, and ultimately bringing everyone on the same page for better digital collaboration and thereby enhanced productivity.
To know more about how Lark can help your organization in digital collaboration, click here and start thriving in the hybrid world of work for free.