The impact of 2020 over the retail sector has been devastating globally. With mass layoffs, store closures and furloughs making headlines through the first half of 2020, to little relief in the e-commerce segment diversifying into essential services and seasonal hires in large numbers, the year has been a roller coaster, with the journey ahead remaining uncertain.
However, despite a rather turbulent year for the retail sector, a recent KPMG report, "Global Retail Trends 2020" shed some light on the emerging post-COVID trends across the retail sector stating, "Interestingly, COVID-19 has accelerated key fundamental trends that were already influencing the sector - rather than stop these trends in their talks."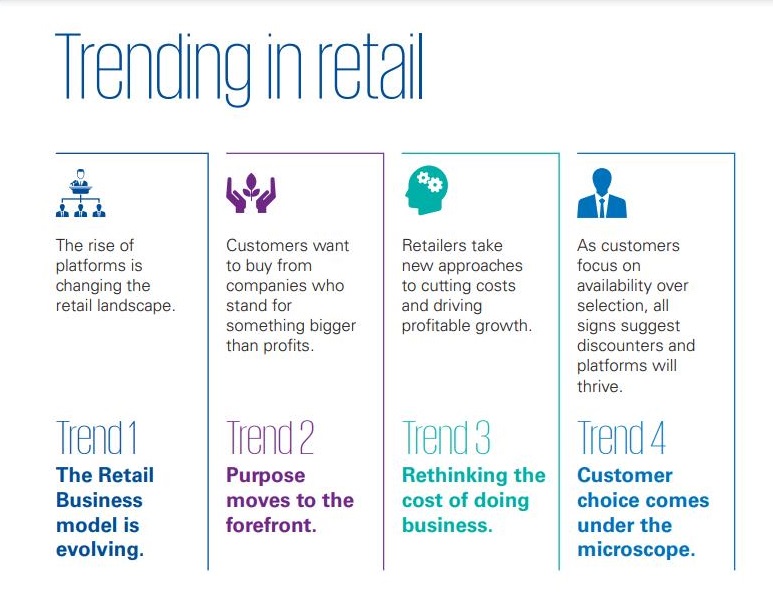 Source: KPMG Global Retail Trends 2020
"COVID-19, for the most part, has put physical retailing on pause. Indeed, with a significant proportion of the world's consumers currently under some form of lockdown and all but essential services (generally food and pharmacy) and selling products, permitted to operate, physical retailing is in a precarious state….Those with no existing online or delivery channel will struggle to survive this challenging time," the report added.
In terms of employment, the report revealed that the demand for delivery services has skyrocketed, leaving many existing delivery services — Ocado, Deliveroo, Ele.me and others — scrambling to expand their workforce and their fleet. "Many have extended offers of temporary employment to 'gig economy' and hospitality workers that have found themselves without work in other industries."
In terms of consumer trends, in a pre-COVID survey of UK customers, 42% said they were likely to switch their current food and grocery retailer, 39% showed no loyalty to their electronics retailers and around a third said they were willing to change their travel retailer. The same survey extrapolated the cost of customer defections in these three categories alone to be worth almost GBP100Bn (US$129Bn).
As an outcome of the pandemic, the pre-existing trends have picked up pace.
"The online platforms are not just seeing increased volume and demand as people self-isolate and stores remain shut; they are also signing up millions of SMEs and merchants that will help them expand their ecosystem, enrich their customer data and — perhaps most importantly — enhance customer loyalty," stated a survey.
Retail synopsis 2020
While the industry was faced with rough waters through 2020, it also regained the momentum in certain pockets. Asia-Pacific accounts to more than 50% of World's population and is the largest retail market in world. Countries in the region are struggling yet coping, found a report, with some countries doing better. For instance, brands across China witnessed store sales return to 80% - 100% of pre-COVID trading levels as the country relaxed lockdown measures. Sports retailer Nike has been able to keep its China business from stalling, owing to  a fitness app that helped homebound consumers do quarantine workouts, reinforcing that brands have the potential to overcome the challenges brought on by the pandemic with the help of technology and innovation.
While Indian retailers suffered significantly in the first half, consequent to mass furloughs, layoffs and store closures, the ability of retailers to leverage the online presence enabled them to sustain by diversifying into the essential services segment. India's retail sector, which has seen a steady recovery post the unlock, has reached 80% of pre-COVID gross merchandise value (GMV) levels, and is pegged at about $780Bn,this year, according to management consulting firm, RedSeer.
One region where retail continues to bleed is the UK. The Center for Retail Research has estimated the total tally of retail job losses this year to hit 235,000. Despite the government's attempts at job creation throughout the year, it is unclear whether the various job creation and investment schemes can offset the losses for the industry. 
According to data released by the Centre for Retail Research, more than 125,000 UK retail jobs were lost in the first eight months of 2020, exceeding previous estimates and presenting a stark picture of just how much damage COVID-19 has done. Data shows 125,515 jobs have been cut and 13,867 stores have been shuttered permanently in the UK high street and shopping centres.
The Centre for Retail Research also predicted 235,704 jobs will be lost in the final quarter of 2020 along with 20,620 store closures. 
Looking back at some of the most significant losses for the UK retail sector, early December 2020, two major UK retailers collapsed within 24 hours of each other, putting a total of 25,000 jobs across 600 stores at risk. On November 30, the Arcadia Group, which employs 13,000 workers, began its insolvency proceedings, with no announcements on layoffs. While the stores remain operational, the company is heavily indebted and most of its stores are expected to close eventually. Additionally, Arcadia's pension fund is reportedly running a £350Mn deficit and employees' pension benefits are likely to be reduced. 
The news of Arcadia's insolvency was followed a day later by the news of liquidation of the Debenhams department store chain, with the year end as the tentative timeline to wind up, and nearly 12,000 jobs on the line. Staff pensions were also affected, with the Pension Protection Fund estimating that employees might receive up to 10% less than expected. In Aug, Debenhams had already announced a round of cuts, removing 2,500 more roles in addition to the 4,000 they had lost since May 2020, reducing Debenhams total workforce by a third.
Stiff competition from online retail, high costs, and failure to adapt to a changing business environment made the situation worse, and the pandemic was simply the last straw for the two companies. The collapse of the two retail chains, was described as the UK's worst corporate failures of the COVID-19 crisis. 
Many other UK-based high street retailers and stores also announced redundancies in an attempt to negotiate the impacts of the pandemic. Among other significant losses, WH Smith announced cutting 11% of their workforce, retailer and grocery store chain Sainsbury's announced cutting up to 3,500 jobs and closing hundreds of stores. Establishment retail company Marks & Spencer announced cutting 7,000 jobs amid sharp slumps in their sales, specifically in clothing. The company currently employs 78,000 people and the cuts were executed across support functions, regional management and UK stores. 
From brick-and-mortar to setting up a digital shop
The beauty giant Estee Lauder announced plans to reduce its workforce by 1,500 to 2,000 jobs worldwide, or about 3% of total staff, and also boost its digital operations after pandemic lockdowns hit demand for makeup. Most of these cuts involved store employees and support workers. Chief Executive Officer Fabrizio Freda told the media, "We are better aligning our brick-and-mortar footprint to improve productivity and invest for growth." While overall, cosmetics sellers have fared better than other non-essential retailers, such as apparel and fashion accessories, the impact of the pandemic on changing the way consumers spend still can't be ignored. 
Within a few months of 2020, retail experienced a significant hit on account of COVID-19, and while luxury retail stores struggled in the initial months, with essential retailers sustaining business through the lockdown and post lockdown phase, what came to be is that retailers who were agile enough to leverage a digital presence replacing the physical stores were able to make sales along with a profit, given the sudden surge in online shopping, be it for essentials, or eventually for apparel, accessories and other purchases.
Interestingly, for UK-based Sainsbury which employs around 172,000 people, the layoffs came as an outcome of large portions of their sales this year (40% compared to 19% a year ago) having moved online, reducing the need for brick-and-mortar stores.
17% of Sainsbury's grocery sales are now conducted online compared to just 7% in March 2020. Since the pandemic outbreak, Sainsbury's have doubled their digital sales capacity, fulfilling around 700,000 online orders and 100,000 click-and-collect per week, eight times the pre-pandemic levels.
However, an interesting observation here is that while the younger generation was able to make a quick mindset shift to online shopping for groceries, the elderly remained skeptical on the quality of products as they attempted going down the digital route. In fact when Bain & Company surveyed 1,100 consumers in Australia in May 2020, they found the willingness to recommend a retailer (measured as a Net Promoter Score®) tended to be lower for online purchases than in-store shopping. This calls for the retail sector to strategize for 2021 keeping customer segments and preferences at the core. 
Coming to employee skill sets to tackle the digital marketplace, it was found that one of the cornerstones of bringing in technology has been to keep it as friendly as the user-experience employees sense while using apps on their phone - from online shopping to online payments, to engaging with an online community. Customer service remains a crucial element when it comes to e-retail. Upskilling and boosting this section of e-retail requires committed time and efforts.
A seasonal sigh of relief
In September 2020, Global retailer Walmart announced hiring plans to recruit over 20,000 workers ahead of the US holiday season to prepare for an expected surge in online shopping, its first large seasonal hiring in five years. Walmart was preparing to battle it out with Amazon in the holiday season by onboarding a seasonal workforce geared up to handline the online orders across its US distribution centres. The company also launched a subscription-delivery service called 'Walmart+', on the lines of 'Amazon Prime'. 
With customers flocking towards online shopping to browse through essentials amid lockdown, and eventually other items of daily need, e-commerce has seen a continuous uptick, with the demand headed towards a steep climb around the holiday season.
Commenting on the current consumer behaviour, Scott McCall, EVP and Chief Merchandising Officer of Walmart's US operations said that over the past six months, "our customers have been shopping differently...we expect that will continue into the most important shopping season of the year - the holidays." 
US ecommerce multinational Amazon also shared plans to create 7,000 permanent UK-based roles by the end of the year, taking its total permanent UK workforce to over 40,000. This increase represents over a 30% rise in employees in just a year as the pandemic and lockdowns spur a surge in online sales. Already so far this year, Amazon has added 3,000 permanent roles in the UK and will also hire around 20,000 temporary seasonal workers to meet demand during the festive winter period. 
Amazon and Walmart have had something of a unique pandemic experience, taking on large numbers of staff at a time when many other retailers and stores are making job cuts and mass furloughs. Interestingly though, despite the shift to e-commerce, Amazon announced expansion plans for physical offices in six US cities outside of their Seattle headquarters. How the expansion pans out for the retailer remains to be seen.
The labor market realities for retail
"In 2020, the acceleration of online shopping has resulted in seismic talent demand shift. Hiring for stores have decreased, offset by demand in warehouse, transportation and call centers. There is also significant demand for digital talent. Retailers are embracing digital transformation at scale - hiring digital talent and embarking on massive upskilling," shared Sudip Majumdar, Senior Vice-President, Retail Industry Lead, Publicis Sapient, in conversation with People Matters.
The pandemic has made the retail industry a tricky playground for talent.
While the industry was among the worst affected, it did make a rapid transition to online marketplace to salvage both business and the workforce, however, not the entire workforce will continue to find their existing skill set relevant for the industry in the coming times, and governments are prepping this lot by retraining them for opportunities and migration across industries.
In Aug 2020, the Singapore National Employers Federation (SNEF) announced plans to develop an intensive retraining program for workers from the pandemic-disrupted retail and aerospace sectors, to help them find alternative employment until their original industries recover from the COVID-19 recession. Together, the two industries employ an estimated 180,000 people in Singapore, although the numbers are likely to continue decreasing as companies lay more people off or simply close their doors. In light of the ongoing changes, SNEF President Robert YapYap observed that not all businesses will be "salvageable" after the crisis, particularly if their business models are not relevant. Hence, a long-term solution will be needed for those working in industries that either have a long projected recovery or a low chance of recovery if at all. 
Upskilling to help the workforce remains critical, however, as the marketplace takes a digital route with the full-fledged comeback of physical stores remaining unclear, employers must look to reimagining roles and retrain the workforce for the evolving retail space.
What retail 2021 looks like?
Publicis Sapient's Senior Vice-President, Retail Industry Lead, Sudip Majumdar, suggested that unifying ecommerce, supply chain, and in-store technologies into a single self-learning ecosystem is a huge focus to provide a truly differentiated omni-channel experience and decrease cost for the retail industry. "In 2021, retailers will focus primarily on online and amplify the usage of digital technologies in store to ensure a safe, frictionless shopping experience."
A Deloitte study on 2020 Retail Industry outlook stated, "The shift towards digital enablement is inevitable for retailers if they seek to explore new business models or add new revenue streams through acquisition of digitally native companies."
"It's not just tools or applications or gadgets or enterprise systems. In today's environment, it can be the straw that breaks a retailer's back," noted the study, adding, "A personalized experience, highly interactive engagement, and convenience in all shapes and forms require superior digital capabilities coming to life and have become a critical part of consumers' expectations for retail. The most mundane events, like shopping for groceries, are becoming increasingly digital, and the biggest retailers are fighting it out to win every customer."
Additionally, the report claims that 5G will likely play a key role in advancing retailers' digital aspirations to real-world applications in the coming years. "Some estimates predict that the improved connectivity from 5G will likely add $12Bn in retail revenue by 2021. While 5G-powered applications won't come to life in the immediate short term, forward-looking retailers should begin laying the groundwork for it now and continue to scan the horizon for deployable applications."
As we approach 2021, one thing is certain - there is no going back to normal for retail. How soon the industry is able to digitally adapt and technologically evolve in light of the changing circumstances and consumer preferences, while retaining elements of physical spaces, will shape the sector's ability to bounce back and gain a strong foothold in the times that lie ahead.