A new CompTIA report into workforce and learning trends reveals the extent to which the rapid acceleration and immense transformation of the last twelve months is forcing companies to strike a new balance between continuity and innovation, moving from surviving to building back better through a renewed focus on resilience, DEI, learning and development and strategic integration of people and technology. 
The 'Workforce and Learning Trends 2021: Accelerating Through the Curve' report is the result of a 400-person strong survey of US human resources and workforce learning professionals and qualitative interviews with L&D experts, along with research into market trends and literature reviews. As a result of this, CompTIA researchers have identified five key trends to watch out for that will define the near future: 
Let's take a look at the five trends in greater detail: 
Companies renew focus on worker resilience
In many ways, the pandemic accelerated existing concerns about work-life balance and morale, with the struggles of vulnerable workers (older workers, working parents/mothers, low-wage workers) becoming more visible as a result of the crisis. While these groups are still weathering the impacts of the pandemic, it's a positive sign that organisations are now more aware and getting more specific and targeted about how to help these groups based on their actual, multi-dimensional needs. In this way, resilience and renewed emphasises on wellbeing may go hand-in-hand. 
Stephanie Morgan, director of education and edtech at CompTIA said "businesses have realized they have to talk about people like they're people, not like they're assets. They're acknowledging that people are messy and have emotions and have families. This past year, corporate culture has become humanized."
Tech investments are a key way to gauge and track these needs. According to the report, 38% of the HR leaders surveyed say they offered new or expanding technology stipends for work-from-home employees and 41% hired new staff in IT support, network engineering, software development, data analytics or cybersecurity. 
Business gets more proactive about DEI 
Last year was also a turning point in terms of social justice and the future will likely be defined by new initiatives aligned to diversity, equity and inclusion. In fact, over half the HR professionals surveyed expect their organisations to pursue such initiatives this year, and these initiatives will be more "intentional and accountable." 
Specifically, 66% of large firms, 47% of medium firms and 35% of small firms expect to implement a range of new DEI initiatives in the year ahead. From the perspective of HR professionals, 38% say implementing such initiatives is the right thing to do, 36% believe it's strategic or good for business and 27% say it's a mixture of both.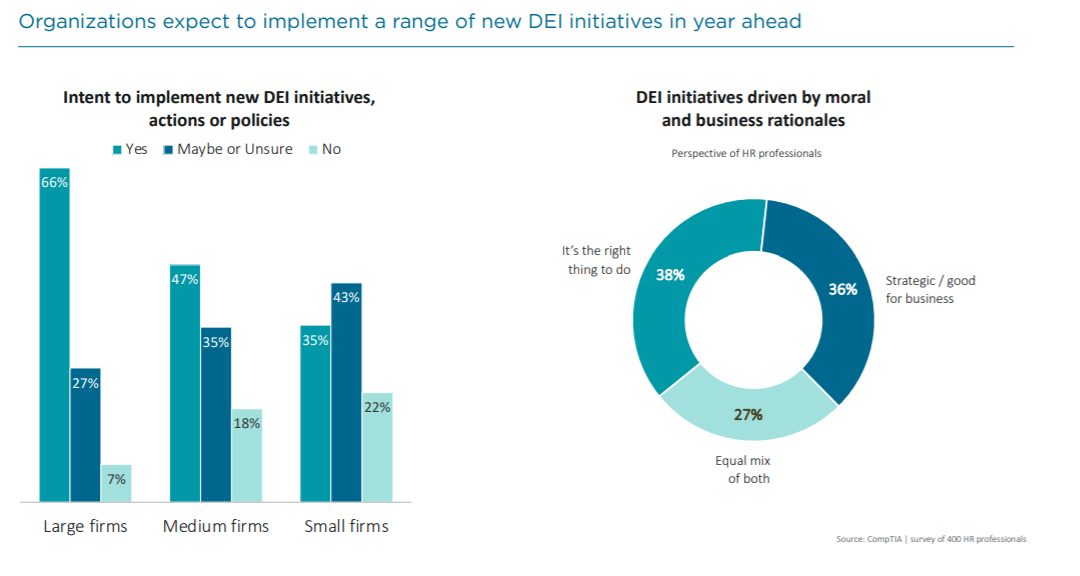 Yvette Steele, director of member communities at CompTIA said that, after the public support given to DEI and social justice causes by many companies last year, she's pleased to see organisations still "holding themselves accountable and publicizing the actions they've taken." Steele added that "companies are being proactive about their diversity commitment. More importantly, they're tying that into how belonging plays a big part, because diversity won't work without inclusion." 
However, for small, medium and large firms, there are a number of challenges that could get in the way of these DEI efforts, including training or mentoring, identifying goals and metrics, accountability and staff buy-in: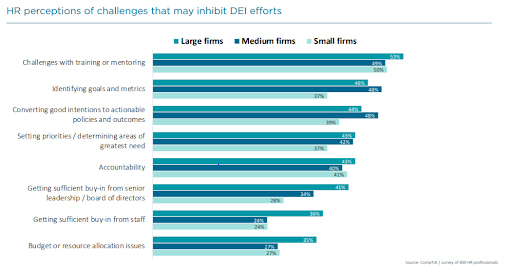 Continuous learning is the new personalized learning 
In their survey, CompTIA found 75% of HR leaders are planning to increase the tools they use to personalise talent development, suggesting a more specific, targeted approach will be an ongoing trend. While this is a positive sign, CompTIA say their conversations and interviews point to a different L&D need - continuous learning - and that "personalised" learning has, in some instances, just led to segmentation. 
Stephanie Morgan, director of education and edtech at CompTIA, said continuous learning, while "really messy," is part of a larger trend to better understand employees. "The pandemic shattered the idea of event-based training," she says. "Education is an ongoing thing, and it's a relationship between the employee and the organization. It's related to their job function, but it's also related to their professional career."
A few examples of continuous learning CompTIA suggests include "adaptive learning technology that lets people work at their own pace by skipping ahead, pausing, repeating or stopping out where they need, learning record software that can track and credit a variety of learning experiences, learning experience platforms that provide an anytime, anywhere "streaming channel"-style access to content, social learning platforms that allow employees to connect and collaborate in personal ways and employee experience platforms that allow self-service for individual employees accessing all HR functions."
Alternative learning and career pathways are extending and branching 
The leaders surveyed are largely looking for ways to make their organisations more accessible or less dependent on 'traditional' talent pools. For example, over half (57%) of senior leaders expect to see a continued trend of de-prioritizing the four-year degree. But this is just the first step. 
CompTIA's Executive Vice President of Social Innovation Charles Eaton says, "We don't see enough alternative credentials identified in the job listings. Getting rid of the degree requirement is a great first start. Now they have to say what lines up with the skills they need."
Among many leaders surveyed, there is a belief that relaxing or even eliminating the 4-year degree requirement is driven by a number of different factors, including more workplace agility and focus on skills/performance over degrees (43%) and sufficient evidence that candidates of all types can be successful (43%). However, there are also a variety of factors that could inhibit employers from taking this step, the most prevalent of which is general organisational resistance to change (44%).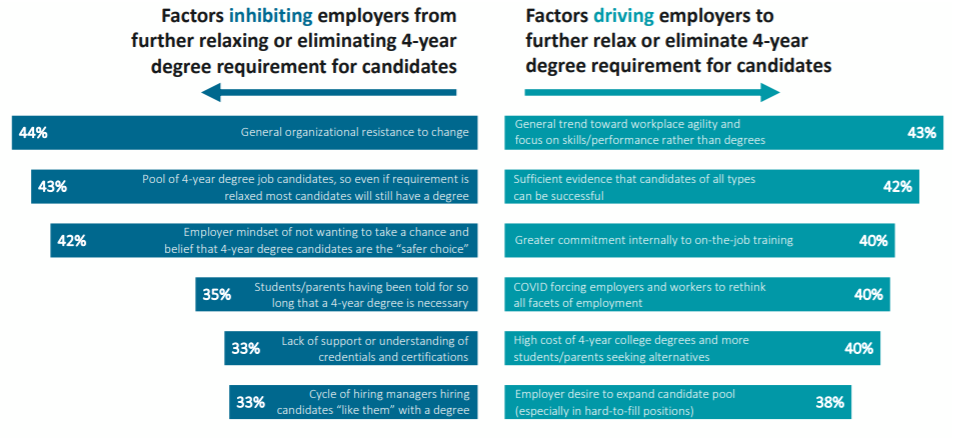 AI becomes a strategic partner of human-digital teams 
Resoundingly, HR leaders predict AI will characterize future interactions in the workplace, particularly in their function. 80% of respondents expect AI to have either a moderate or significantly increased impact on HR in the year ahead, with senior leadership even more likely to say this will be the case. 
The table below reveals some of the specific ways in which AI-enabled data might be used and the percentage of companies who are exploring, piloting or actively using them. This includes 68% who are exploring or using this tech for employee career planning, 71% for candidate competency assessments, 64% for onboarding and 71% for interview scheduling / candidate engagement.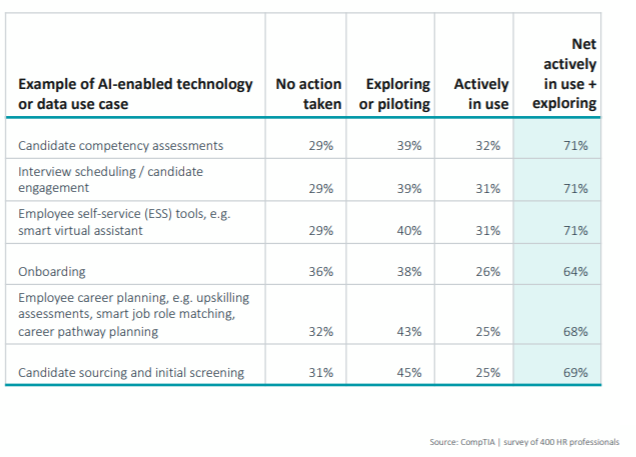 Seth Robinson, senior director of technology analysis at CompTIA says such collaborative efforts between digital and human workers need to be underpinned by learning and development. Rather than seeing L&D as a "cost center that trains workers on the features of new technology," leaders should place L&D at the heart of strategy. 
"L&D has to be plugged into the technology strategy and understand the human elements that need to be built up to use it effectively," Robinson says. "Companies moving toward strategic L&D are not just throwing things over the wall anymore." Meanwhile, he says, L&D needs to understand the two dimensions of more and different: "AI changes the questions being asked and the nature of the skills required. It's not just building new skills into a curriculum. It's teaching that we need to think more critically. We need to consider the data that's coming in and ask ourselves important questions before we start using these results.
Whatever the future holds, it seems clear that technology, learning, DEI and innovation will be at the heart of these trends for optimistic change. However, as CompTIA researchers also point out, nothing is certain, writing that "the biggest caveat here is that our hopeful expectation of a post-pandemic era isn't a given," they write in the report. "As we finalize this report in March 2021, it appears that a return to normal is within sight, particularly as effective vaccines become widely available. However, we also are mindful that March 2020 was a lesson in not taking anything for granted." It remains to be seen how these trends will play out and how they will continue to shape the workplace of the future.