Human resource leaders are feeling less valued today than they did 2 years ago, when the coronavirus pandemic struck, prompting about 20% of such executives to contemplate quitting over the next six months without a job in hand, according to a global survey.
This revelation by the survey, conducted by the London-based executive search firm Leathwaite, reinforces the view that the phenomenon of Great Resignation is unlikely to abate quickly, as the pandemic appears to have fundamentally transformed employee expectations and priorities, potentially calling for a new cultural contract at organisations.    
The Great Resignation, which has hampered companies' efforts to ramp up their capacities and meet the demand for goods and services, is accompanied with an intensifying war for talent. This is reflected in the survey's findings. HR leaders see talent retention and acquisition as the top business challenges for their organisations in 2022, followed by cultural change as a result of the ongoing hybrid workplace. Staff morale or engagement and digitisation, in that order, complete the list of top 5 challenges or priorities for businesses, as seen by HR leaders.      
In a recent interaction with People Matters, global industry analyst Josh Bersin said that there's a "war for people", not just talent, and that currently, it's hard to hire for virtually any position, regardless of skills required. In this brutal talent war of attrition, he recommended organisations to take care of the people they have. "Almost every company is frantically looking for ways to better understand what people need to be productive, healthy, happy, and engaged… HR and other business leaders are improving the employee experience in every aspect of work."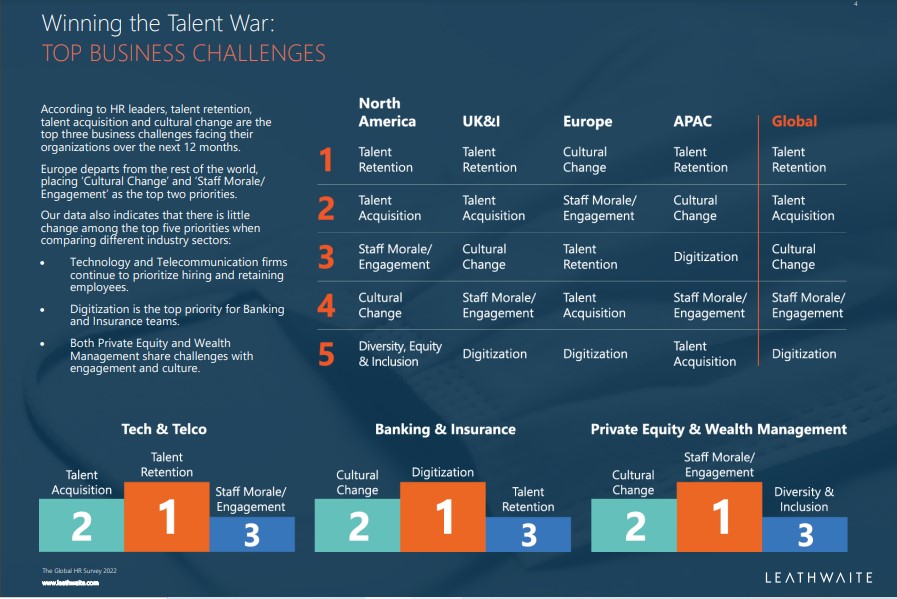 Leathwaite's Annual Report for Global HR Leadership Survey 2022 gathered responses from 349 executives, spread over North America, UK & Ireland, Europe and Asia-Pacific, from industries including Asset Management, Technology, Pharmaceuticals and Banking, to gauge the trends for the next 12 months.
The report showed that hybrid mode of working is here to stay, with 47% of respondents back in the office 2-3 days on average. "People got a taste of remote work during the pandemic, and while it has changed expectations more broadly, we are seeing a fairly consistent hybrid work schedule emerge overall with an even split between office and home working," said Chris Rowe, head of the global HR practice and partner at Leathwaite. 
But there is a worrisome downside to the work being hybrid.  
Issues around creating an equitable workplace with a hybrid schedule continue to torment HR leaders, with a third of them expressing concern that their peers would advance faster as they spend more time in the office, in what is known as FOMO, or fear of missing out, in popular parlance. 
Further, the survey reveals, technology and private equity (PE) industries stand diametrically opposite to each other with regard to remote working. As many as four out of five, or 80%, of people working in the tech industry aim to continue working remotely, while the same percentage of employees in PE intend to return to office. Surprisingly, or maybe not, it is in these two industries that a majority of senior HR professionals feel that their function is not quite well understood by their boards, with 62% of HR leaders feeling that their role is not valued.