Following the recent announcement of Parag Agrawal taking over as CEO of social media giant Twitter, the platform - among other channels - is flooded with threads on how Agrawal is yet another success story of an Indian origin leader entrusted to grow one of the most valued global brands.
Among these trending tweets, one that stood out is from Tesla CEO Elon Musk. Replying to a tweet from Stripe CEO Patrick Collison, on Parag Agrawal's appointment, Musk said: USA benefits greatly from Indian talent!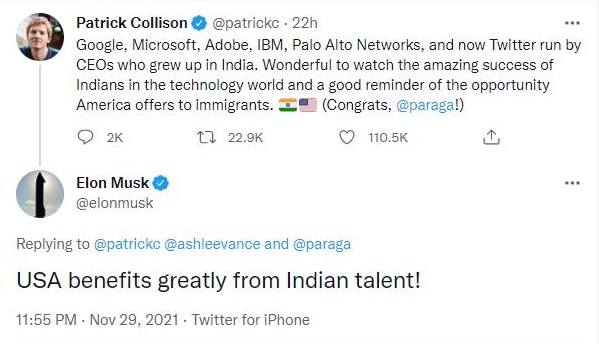 Which are some of the other leaders in this league and what fueled their success? Let's take a look!
Indian diaspora to the Silicon Valley
With his new appointment as the CEO of Twitter, Agrawal joins the likes of Satya Nadella (CEO, Microsoft), Sundar Pichai (CEO, Google), Arvind Krishna (CEO, IBM), Shantanu Narayen (CEO, Adobe), Nikesh Arora (CEO, Palo Alto Networks) and Raghu Raghuram (CEO, VMWare). 
At the helm of leading global tech brands, Indian talent indeed is cementing a strong foothold across Silicon Valley. And these achievements aren't limited to the tech world alone. Industry veterans Indra Nooyi and Ajay Banga have also served as Chief executives at Pepsico and Mastercard, respectively.
Getting to the top echelons
A common finding among a majority of these appointments is not just the trust of transitioning CEOs, but the organisational ecosystem that paved the way for opportunities for these leaders. With none of them being US citizens by birth, their strides in Silicon Valley reinforce the importance of immigration laws and the regulatory infrastructure. 
What can also be seen is the growing acceptance of multiculturalism and liberal values that large corporations have been promoting for a while. The sooner organisations open their doors to diverse talent and replace bias with opportunities, the quicker they will be able to reap the benefits of 'hidden talent'.
With the US being a magnet for tech talent, both government regulations, as well as the organisational ecosystem play a crucial role in enabling talent as well as corporations to outshine their competition.
The common strings that make these leaders remarkable
Announcing his exit and welcoming the new CEO, Jack Dorsey said in a tweet, "The board ran a rigorous process considering all options and unanimously appointed Parag. He's been my choice for some time given how deeply he understands the company and its needs. Parag has been behind every critical decision that helped turn this company around. He's curious, probing, rational, creative, demanding, self-aware, and humble. He leads with heart and soul and is someone I learn from daily. My trust in him as our CEO is bone-deep." 
A media article revealed that according to his former colleague Keval Desai, Pichai aided his ascent by never trying to steal the limelight and advancing his agenda through quiet advocacy. "He's a very very strong opinionated person who has clear points of view about where product and initiative might go, but he's very good at letting other peoples' opinions emerge before he gives his own," Desai told Reuters.
According to a Microsoft press release, "Nadella ushered the company into a new era of openness and innovation, growing Microsoft's cloud computing business, promoting cross-platform collaboration and overseeing the launch of inventive products. Known for his empathetic management style, Nadella helped transform Microsoft's culture while bolstering the company's bottom line."
Welcoming VMWare CEO Raghu Raghuram, the tech firm's lead independent director, Paul Sagan said, "After a thorough and thoughtful search, the Board concluded that Raghu is the best person to lead the company as CEO because he embodies our innovative culture, represents our values and has a clear vision for VMware's future." A company release said, "Since joining VMware in 2003, Raghuram has helped steer the company's strategic direction and its technology evolution throughout VMware's rich history."
On Arvind Krishna's appointment as IBM CEO, the organisation's then-President and CEO Virginia Rometty said: "Arvind is the right CEO for the next era at IBM. He is a brilliant technologist who has played a significant role in developing our key technologies such as artificial intelligence, cloud, quantum computing, and blockchain. He is also a superb operational leader, able to win today while building the business of tomorrow...Through his multiple experiences running businesses in IBM, Arvind has built an outstanding track record of bold transformations and proven business results, and is an authentic, values-driven leader."
Krishna was credited by IBM as the "principal architect" of the company's Red Hat acquisition. The $34 Bn acquisition is said to be IBM's largest acquisition yet in its long history.
What's next
As much as the world recognises these success stories, there remain many more in the making. At the same time, several await access to the door and continue to battle the glass ceiling. However, with more diverse names taking over the reins of the most valued global brands, the windows of opportunity open up for all.