The first female, first Asian, and the youngest-ever CHRO of London-based Unilever, Leena Nair has been appointed as the next CEO of popular French fashion brand Chanel.
Leena's history at Unilever, which spans three decades, is a testament to her passion and commitment to breaking stereotypes and paving the way for those yet to come. In an article for People Matters, Leena reflected on her journey and said, "I think women who have managed to grow in this ecosystem, should make the path easier for those after them. Within one month of being made HR Director India, I extended maternity policy. I introduced the flexibility policy to work out of home; these came from the belief that we need to make life for women and men easier. When I joined HUL, women comprised only 3% of the workforce there. Today, 30% of employees are women."
A strong believer of gender inclusion being a business issue, Nair believes that "to create a balance we need to change the men, the women and the culture."
Sharing why diversity is personal to her, she said in a LinkedIn post, "I joined Hindustan Unilever's management training scheme more than 25 years ago as one of the few women among 15,000 men. At the time, women made up only two percent of our employee base (of course, HUL has improved and changed exponentially since then!) Before that, I had qualified as an engineer as one of a handful of women in my engineering college with thousands of men. I was the first woman to do sales at HUL, the first to visit a factory. Being in the minority was the norm."
Nair added, "All my life it has been a great privilege to break some of the taboos and glass ceilings surrounding gender. I feel especially honoured in steering Unilever to a more balanced future. As a woman who has experienced being in the minority, I have empathy for anyone who feels marginalised. I take it personally."
Prior to her role as CHRO, Nair served as Global Senior Vice President for Leadership and Organisational Development and Global Head of Diversity and Inclusion at Unilever. In this role, she was instrumental in driving Unilever's employer brand to a record high and in step-changing their diversity agenda to industry leadership. Nair has been a strong advocate of equity and enabled an inclusive policy and cultural framework at the organisation through leadership development programs, among other initiatives. 
Commenting on Unilever's journey to become a more inclusive workplace, Leena said in a 2018 LinkedIn post, "Twenty-five years after I joined, I'm still passionate about making Unilever a more gender-balanced workplace. My role as Chief HR Officer at Unilever has allowed me to increase our diversity and inclusion in our workforce, from our senior leadership downwards. I am very proud of the huge strides we've made in the years since we took up the challenge. We have implemented systematic programs and accountability in the business and, as a result, women now represent 47% of management at Unilever."
The strides above were an outcome of a "successful repeatable model" that included the following steps:
Ownership of business case
Setting targets
Strengthening supply, retention and development programs and practices (such as mentoring, maternity and paternity support, women's skill development and inclusion learning)
Engaging the organisation and communicating the case for gender balance
"There is still work to be done! Each of us has a role to play in making diversity and inclusion a part of our DNA. With every one of us on board, we will continue to form empowered, resilient teams – for women, for our company and beyond," she added.
Announcing her exit, Unilever CEO Alan Jope said, "Leena has been a pioneer throughout her career at Unilever, but no more so than in her role as CHRO, where she has been a driving force on our equity, diversity and inclusion agenda, on the transformation of our leadership development, and on our preparedness for the future of work."
A go-getter and leader, Nair was the first female manager to opt for a factory stint. This passion steered her career in ways that led her to become the first woman in the Management Committee of Hindustan Unilever - in 90 years - to head the HR department. She was also the first woman to be on the Unilever South Asia Leadership Team a year later. 
For someone passionate about paving the way for those yet to come, her efforts, commitment and impact in fostering inclusion, of gender and beyond, are visible in the many messages that have surfaced on social media, celebrating her accomplishments.
An industry leader wrote on facebook, "What good news! It isn't easy to distinguish what I am feeling. All I can say: 'Leena, you have made it easy for the ones coming after you. You honoured your word. This is huge for all the women ( and men ) who can now un-limit their dreams for career and more.'" 
Here are some more from Twitter: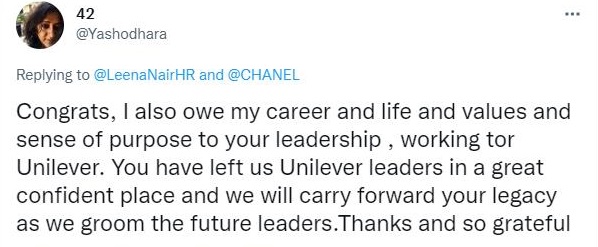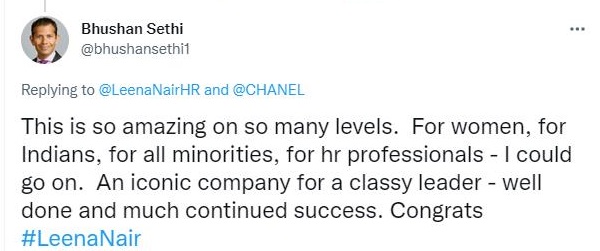 Featured on Fortune India's Most Powerful Women 2021 list, Nair is admired for her people-centric approach to leadership. A new CEO with the above track-record, and Chanel being an iconic fashion brand - an industry often in the spotlight for fueling bias and discriminaion on the basis of an individual's physical appearance - it will be interesting to see how the newly appointed people-focused CEO brings the lens of inclusion, equity and diversity to both Chanel's business as well as employee segments.