We get it: looking for a job is an extremely exasperating process. There's too much emphasis on what's on your CV rather than what you know. If it doesn't have the right format or keywords, you won't qualify even for a five-minute face time with the hiring manager; let alone get a full-fledged interview and the chance to land your desired job.
Hireplace was founded to overcome these very obstacles.
Stewart Chen, Co-founder of Hireplace shared with us, "One day, I was invited to a hiring event in a speed networking format. 5 minutes per interview, and I get to speak to real people from real companies and not just submit my resumes to a black hole. The event was full, and everybody had a great time, but then there's a lot of waiting around in queues. After the second event, I was convinced that this is the future of hiring, and I wanted to be the first to do it virtually."
Enter Hireplace, a virtual speed interview platform that connects talent pool to employers in a speed-dating video interview format, and cuts down on the over-reliance on CVs as well as the frustrations of a jam-packed career fair where candidates are left jostling for attention with a prospective employer.
Speed interview- a quantum leap in virtual career fairs
With Hireplace, universities, recruiters, and government agencies can swiftly get the pre-screened candidates face time with employers in quick one-on-one interviews. They can have multiple employers and a dozen candidates or more in a single session, and over 50 interviews in an hour.
Unlike the typical career fairs, Speed Interview events do not need to be planned months ahead and can be automated end-to-end. All an employer has to do is set a date, time, and interview duration for the hiring event, invite participants wherein candidates and hiring managers will receive calendar invitations and instructions. 
Once candidates are invited, they could view the details of the event or ask any questions. When the event goes live, they could queue for the employers and start the video interviews within the app. Similarly, hiring managers will receive calendar invites with links so they could participate via the browser, just like any video conference meeting. No installations are needed - only a modern browser and webcam.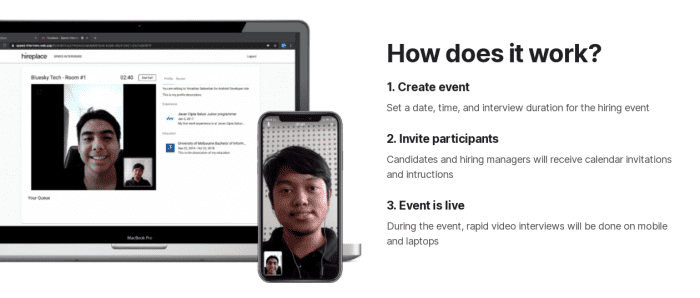 "While there's no limit to the number of candidates, employers, or duration in a session, we encourage our clients to keep it small and targeted," says Stewart.
More than 2,000+ interviews in SEA
In 2020, as the unemployment rate increased rapidly and career fairs halted, people soon realized the traditional ways of getting jobs are not effective enough. Therefore, Virtual Career Fairs became a massive trend, and Speed Interviews quickly became a better alternative. 
Since soft-launching in April, Hireplace has hosted more than 2,000 interviews for universities & organizations in the Southeast Asia region. About 30% - 50% of candidates are shortlisted for the next stage through the events.
Delving more into university career fairs, Stewart shares that the idea of virtual career fairs emerged as it is a convenient method to bring both the students & employers together. 
Typically, many universities tend to host a major fair during the first semester. Hireplace enables them to organize a smaller fair through online channels to cut down cost & event planning time and provide the same effect as physical events. 
While previous virtual events solicited a large volume of attendees, however, the universities found out there is a lack of interaction between the employers & students, with many students not getting the opportunity to speak to the employers privately. Furthermore, these events turned out to be more employer branding events rather than recruitment events. Students still need to apply for jobs through the company's job portal rather than interviewing during the event when they are already connected with the employers. This wastes time for both the students & employers. 
It is these limitations that Hireplace enables universities to bypass. In a recent collaboration with one of the top universities in Asia, the startup enabled the first speed interview career style fair, where over 20 sessions were hosted within the two weeks duration with around 400 interviews conducted for 270 job roles. On an average, 35% of candidates were shortlisted in each session, with the highest shortlist percentage as high as 60%.
Many graduates shared that they saw the value in the experience as it allowed them to get those 5 minutes directly with the manager as compared to just submitting a CV. 
Hireplace and the competition in recruitment tech
In terms of competition, there are broadly two types-Video conferencing tools such as Zoom and Virtual Career Fair software.
If you have tried to run speed interviews or speed networking via Zoom Breakout Rooms, you would know the pain of running such sessions, one of which is scheduling the interviews. However, there's no scheduling needed on the Hireplace platform - candidates come online, join queues, get their waiting time, and start interviewing. 
Meanwhile, though during the pandemic, Virtual Career Fair has become the de-facto option replacing On-site Career Fairs, unfortunately, in most cases, it does not live up to their expectations. It's designed more for employer branding rather than helping candidates (students) get jobs, and to a certain extent, it's very much like a job portal with live chat, run over a few days. Here's where Hireplace aims to differentiate itself on real numbers instead of vanity metrics such as clicks/views or the number of attendees.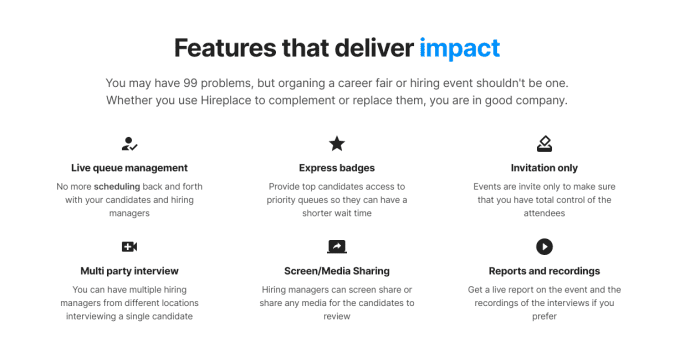 When it comes to how the competition in recruitment tech is shaping up, Stewart believes that most of the recruitment tech focuses on the pre-interview stage, specifically on sourcing and screening. 
"There's not much innovation in the interview process, and this is the space that we play in. Career service offices have many candidates that they need to find a job for, so what's the best way to get them in front of employers on a mass scale? Based on the number of people that were hired via our Speed Interview sessions, we think we may have the answer, and it's not Virtual Career Fairs," he adds.
The Road Ahead 
For the moment, the startup's key focus is helping its clients in Career Services get their students interviews at scale and eventually land a job. In terms of product, it aims to make the interview process more seamless, so that it can support even the blue-collar workers who might face technical challenges when it comes to virtual events/interviews. The startup is working closely with a charity organization in Canada to help its members get jobs and so far has gotten very positive feedback.
So it will continue to simplify the platform in order to support people from all walks of life so that they can get interviews and get jobs- that's Hireplace's ultimate innovation plan. Given that the recruitment space is ripe for disruption as more of it moves to the virtual platform and the world of work gears towards more of remote work, Hireplace is positioned just right to leverage this shift in the coming times.