It's tough to believe the world has been dealing with the COVID-19 pandemic for almost an entire year. As news of the vaccines brings some hope of relief, among many businesses there is still uncertainty and reluctance to commit to a robust, long term return-to-work plan.  
In September 2020, KPMG conducted a survey of US executives at 100 companies representing around 5Mn people to gauge attitudes to reopening and what formal plans - if any - these organizations have to return employees to the workplace and reach the business objectives in the new reality. 
Key takeaways from the report include: 
82% of respondents are letting employees decide when they feel safe and comfortable to return to the workplace.
Only 28% of executives report their organization has an approved return-to-workplace risk and policy framework.
99% of respondents are turning to technology to manage the challenging and unprecedented challenges of reopening in a pandemic. 
Overall, the results showed organizations are "delaying" the return to the office, with only 27% of executives planning a return as soon as possible. Otherwise, plans are either vague ("soon" or "not sure") with no specific end date in mind, or executives have concluded that a return of five days a week is "not necessary."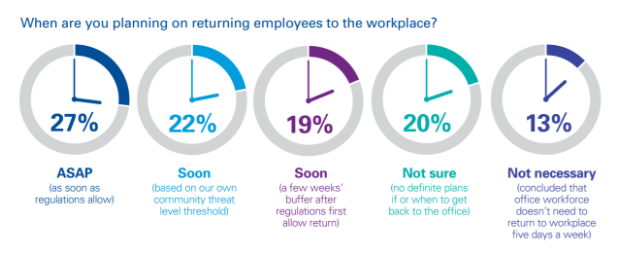 What is the next step? 
Given that many organizations appear to be undecided about their return-to-work, it's perhaps not surprising to see that many companies don't have a formalized plan in place for if and when they get employees back to the office. Of the 100 executives surveyed, just 28% report their organization has a return-to-workplace risk and policy framework "completed and approved by organizational leadership." While 35% of organizations claim they are "close" to completing a framework, 38% report they have only just started to draft a framework for a return-to-work policy. 
Employee opinions and decision-making 
Despite this delay and indecision, one thing is for certain: most employers are incorporating employee opinions into any plans they make. According to the data, 82% of respondents are letting employees decide when they feel safe and comfortable to return to the workplace, even for activities where they've requested their employees do return. 27% are leaving the decision entirely up to employees when they want to return. In fact, only 18% of responding employers said they would mandate employees to return to the workplace and expect them to comply. Clearly, when it's a question of personal health and safety, most employers are reluctant to impose decisions on their teams unless absolutely necessary. As this year has proven, virtual work is not only possible but preferable in many cases and these results reflect this reality. 
Striking the balance between profitability and physical health 
While employers are remaining mindful of employee health, they are also focused on the financial side of business too. Close to half (46%) say profitability, cash flow and other financial planning for recovery is a priority for them now, while a similar number (42%) are prioritizing providing additional employee health resources/benefits such as onsite clinicians. Other measures employers are taking to manage the risk of employees returning to the workplace include contact tracing (48%), daily symptom checks and approval to return (44%), PPE (43%) and extra sanitization (42%). All of these measures will have a cost, however, and it makes sense, therefore, that financial security and cash flow remains the top priority for executives for the time being.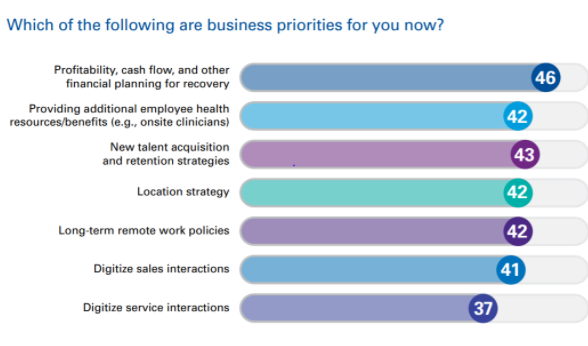 A Safe, Tech-Enabled Workplace Return 
Part of the plan to return-to-work involves investment and implementation of tech solutions. In anticipation of an eventual return to physical work locations, a massive 99% of executives report that their organization is looking into how technology can help facilitate a safe, smooth transition back for their employees. This includes through facility readiness management, workforce dashboards (sentiment, COVID-19 spread, symptoms) and basic symptom check-ins. As KPMG researchers note, "technology is also critical in combining testing, tracing and ultimately vaccine data in meaningful ways, allowing for more real-time decision-making on both macro and micro health issues within an employer's ecosystem."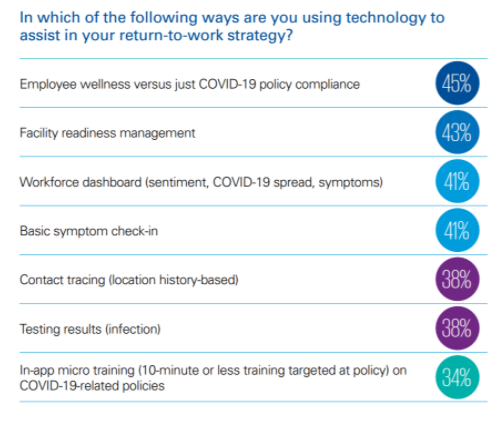 Frameworks for the Future of Work: Readiness & Resilience
Though many unknowns remain, the virus should, with proper protocols and widespread vaccinations, eventually be brought under control. However, that time might be some months or even years away. It's also worth considering how popular the work-from-home and hybrid models have proven to be among employees surveyed. With that in mind, KPMG recommends developing a robust, formalized risk management framework for an eventual reopening, whatever form that might take. According to KPMG researchers, The framework should consider the following questions: 
Will returning to the workplace be optional or mandatory? For which people, activities, locations?
How will you test employees for COVID-19 symptoms, infection, antibodies, and other risk factors? 
How will you manage vaccine distribution within your workforce? 
How will you reconfigure office space and adjust staffing levels to allow for social distancing? 
The report research also shows how important it is for organizations to take an intentional and well-thought out approach to: 
Technological investments
Return policies
Safety protocols
Workforce transformation
Performance measurement. 
These frameworks should be formalized and designed with implementation for an ongoing basis in mind. As Paul Hencoski, Principal and Health Government Solutions Leader KPMG LLP reflects "the hastily crafted policies and patchwork technologies that helped certain industries manage immediate operational and workflow challenges during the pandemic simply won't cut it long term." 
As the turbulence and disruption of this year continues into 2021, many leaders may look at the prospect of building a robust, fresh workforce framework and feel it's too difficult a task at this time. However, as KPMG researchers point out "[frameworks] can be an effective way to improve long-term profitability and viability." Deciding on a formalized plan may be key to bringing some stability to an unstable situation. What seems certain is that the way people work has been changed forever. While 'return-to-work' plans may grow more formalized - brought more broadly into place over time - there is unlikely to be a total 'return-to-normality' anytime soon.