"There's never been a better time to rethink the way you work and challenge status quo" -  Lisa Bodell
In her closing keynote address at People Matters EX India Conference 2021, Lisa Bodell, Globally Recognized Expert on Innovation and Leading Change spoke about 'The Great Reset – How to embrace change and transform in the new normal' and encouraged professionals to step out of the complexity trap, embrace simplicity, think consciously and practice the art of saying 'No'.
Read on for highlights from the session.
Overcoming the complexity trap
With the world of work undergoing dramatic changes in the last twelve months, the workforce has pivoted to newer ways of working and collaborating, and one key word has taken over the overall people strategy - experience. This experience encapsulates a wide array of workplace elements, but most importantly, has made leaders, managers and employees think about two guiding pillars:
Challenge how you work
Change what you do
With a perpetual stack of pending tasks, multi-tasking has become the norm, expectation and trend in recent years. However, Bodell cautions, "We think multi-tasking is the right way to work, but even science tells us that's not true...If we did one activity at a time and we gave it more focus, the outcomes would be better." Multi-tasking in fact adds to the existing complexities, said Bodell.
"We think multi-tasking is the right way to work, but even science tells us that's not true."
Throwing light on the complexity trap, Bodell shared, "Complexity holds back companies from doing meaningful work and being agile." She highlights three aspects of the complexity trap work to challenge how we work and change what we do. "A lot of complexity is within your sphere of control, and you can get rid of it." She recommends evaluating:
More vs less: Shifting the mindset from focusing on how much you get done to what you are truly doing. "We have to stop assessing more vs less valuable. It's not about how much you get done from your to-do list, it's about what was on your to-do list in the first place."
Internal vs external: Shifting the focus from only looking at the bigger picture to revisiting if we are doing things right today.
Doing vs thinking: Shifting the focus from mere analysis and introspection to acting upon insights and enabling necessary change. "We spend so much time on the analysis, we can't take action on what we find. We end up focusing on the activity, on being busy, vs the outcome."
Leveraging the benefits of simplicity
Moving on from dodging the complexity trap to embracing simplicity, Bodell dived into the benefits of simplifying work. Emphasizing that "Simplicity gives you a strategic advantage for the future", she laid down the key underlying benefits of simplicity that hold tremendous potential and impact, but are often overlooked.
"Simplicity gives you a strategic advantage for the future."
Some key benefits that Bodell focused on are shared in the image below: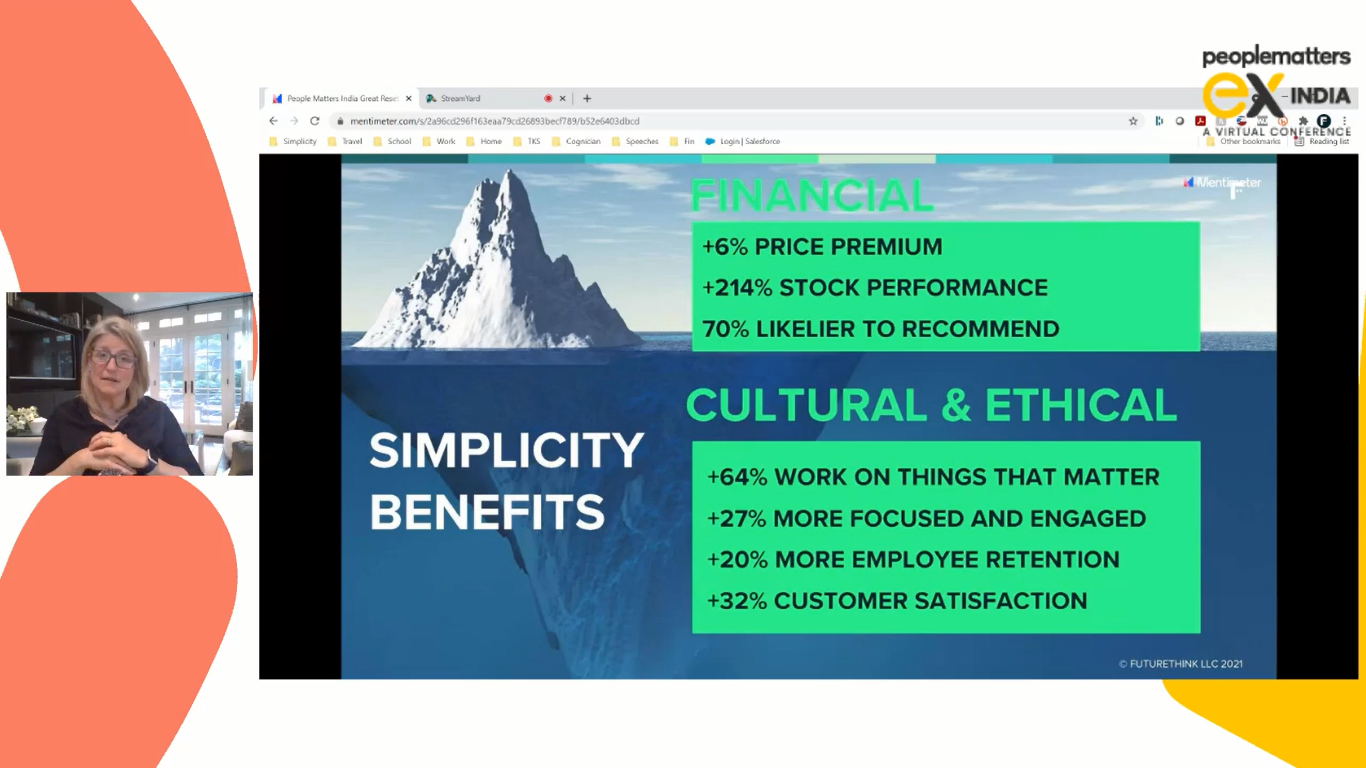 As businesses grapple with survival and struggle to strike the right balance between people and profits, the lens of simplicity to dodge the complexity trap are indeed great starting points to unfold potential, capabilities and growth.
Investing time in conscious thinking
Speaking of crafting the opportunity for conscious thinking, Bodell emphasized introspection and self-awareness around how we invest our time today. A believer of alone time being an opportunity for our best thinking, Bodell said, "The best ideas happen when we are alone, but the best ideas are built when we are together." She further suggested some ideas to align and invest our thinking to a more conscious and focused approach: 
Reflect on where you do your best thinking
Reflect on what do you typically spend your day doing
Shift focus from getting rid of things to doing things
Bodell advised leaders to move away from redundant and complex ways of working by ensuring the workforce has the needed time to focus on what is truly impactful. One of the benefits of reflecting on where their time is going, said Bodell, is realizing the tasks and activities employees must learn to say no to.
Learning the art of saying 'No'
The need to multi-task often makes one say yes to multiple assignments at work, taking on greater responsibility, irrespective of whether they have the time to invest or if it would impact their ability to deliver on existing work. This is where Bodell says it's important to learn to say 'No'. "If at the end of the day, you didn't say no to anything, that's a problem," noted Bodell.
"If at the end of the day, you didn't say no to anything, that's a problem," noted Bodell.
Conscious thinking helps one streamline efforts and prioritize, helping them be more aware of what they can take on and where they need to say no. While there might be different ways to learn the art of saying 'no', it is important to realize that it is a journey and needs persistent efforts to become a skill and enable personal development.
Further, with the mounting tasks and endless work meetings and calls, combining the lens of saying no and conscious thinking, Bodell recommends the following strategies: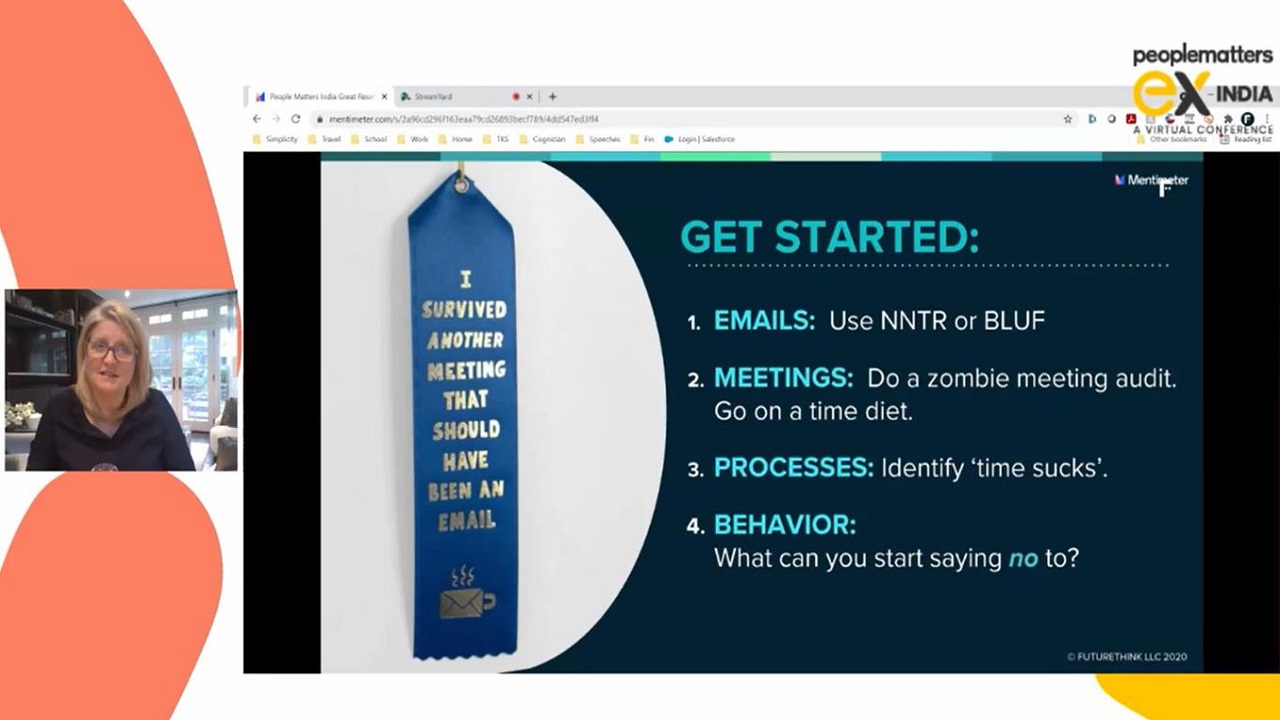 With change and transformation in the new normal shaping mindsets, outlook, practices and culture today, it indeed is time to simplify the complex and consciously think about and leverage the opportunity of 'The Great Reset' and make the leap from surviving to thriving.