READ the October 2021 issue of our magazine: The Skills Gaps Conundrum
Ruth Cotter is senior vice president at AMD where she oversees Worldwide Marketing, Human Resources, Investor Relations and Corporate Strategy. In this unique role, Ruth is responsible for unifying and aligning AMD's brand, people and strategy for success. She led the creation of and oversaw a multi-disciplinary COVID-19 team tasked with ensuring safety and productivity while providing additional support to AMD's global employees facing business and personal disruptions caused by the coronavirus pandemic. With more than 25 years of experience and a proven track record, Ruth's leadership is guided by thoughtful policy and planning.
Under Ruth's leadership, AMD's stock is among the best performing stock on the S&P 500 from 2018-2020. Her commitment to diversity and inclusion has dramatically improved company policies, benefits and community engagement. She established AMD's Multi-Voice culture – an inclusive, learning and innovative workplace culture – that is at the heart of what makes AMD stand out from its competition. This effort has landed AMD on Bloomberg's 2021 Gender-Equality Index, Human Rights Campaign's Corporate Equality Index and Forbes Magazine's list of America's Most JUST Companies.
Ruth is the recipient of Technology Magazine Top 100 Women in Technology recognition in 2021 and the National Diversity Council's 2020 Top 50 Most Powerful Women in Tech award. In 2019, Ruth became an Irish Technology Leadership Group (ITLG) Hall of Fame Inductee, a recognition of the top Irish and Irish-American leaders in Silicon Valley making a significant impact in the world of technology. Ruth has been honoured with the Women Worth Watching Award® from Profiles of Diversity Journal and was named a Top 10 Champion of Global Diversity by Diversity Global Magazine.
In a candid conversation with People Matters, Ruth Cotter, Senior Vice President, Worldwide Marketing, HR & IR at AMD shares with us her learnings from the pandemic and her take on embracing the hybrid work model.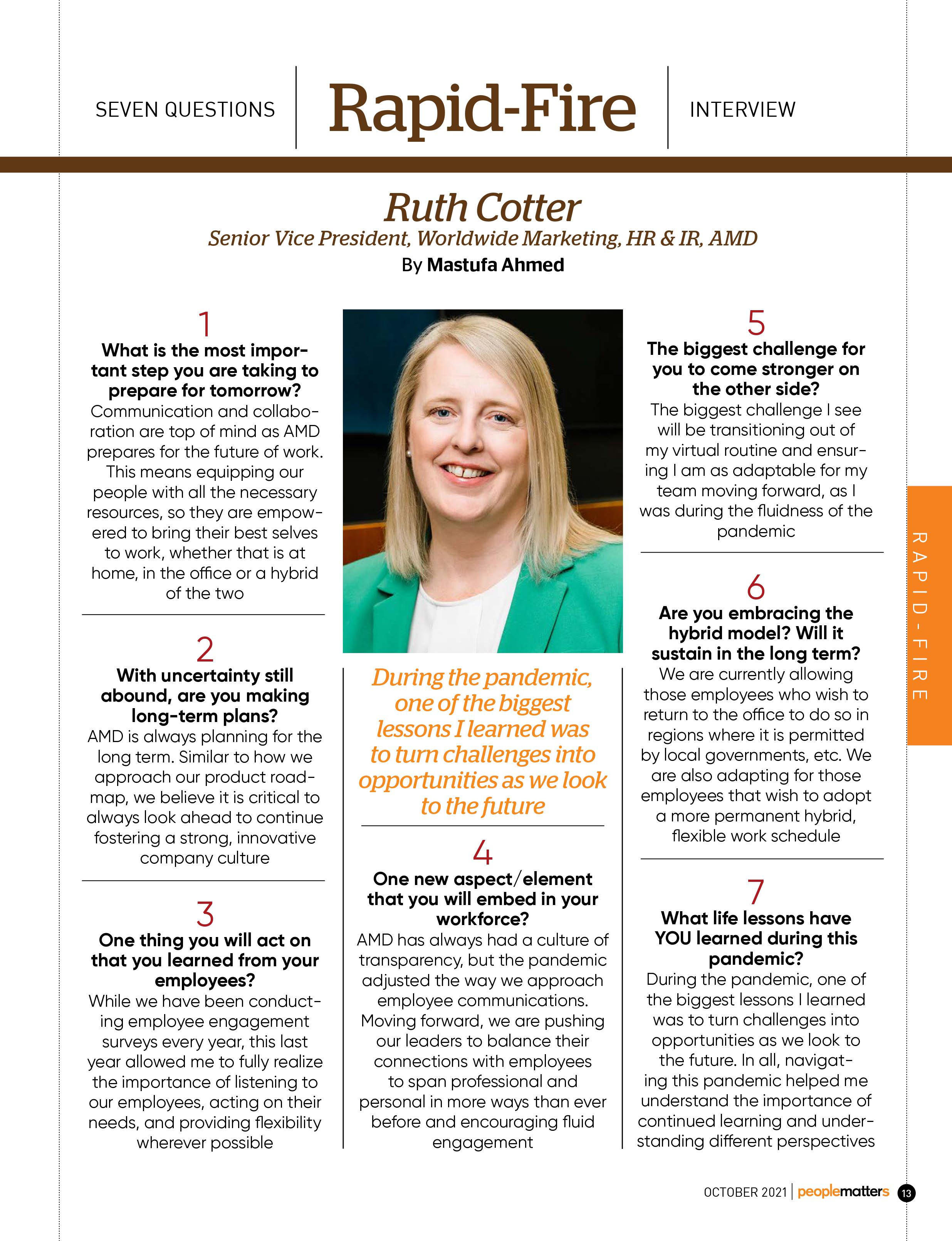 MORE FOR YOU...